Recession à la Russe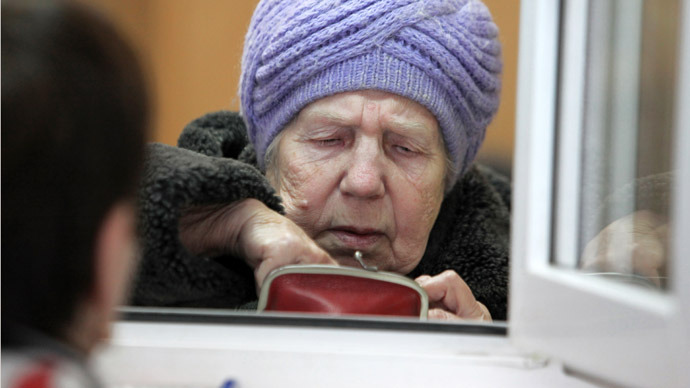 Russia may soon lose its 'safe heaven' status and fall into recession, experts warn. Some classify the coming slowdown as 'autonomous', others don't distinguish it from the global drama, but a continuous economic weakening is without doubt.
The alarm bells around the Russian economy started to sound louder after the Federal Statistics Service said the country's economy had been slowing for the first two consecutive months of 2013, with the trend largely expected to develop. Another warning came from Russia's Ministry for Economic Development that estimated the country's GDP growth between January and March at 1% in annual terms, which marks the first significant slowdown since the country hit bottom in mid -2009. This brings the country closer to a so-called technical recession – an economic contraction seen for six consecutive months.
"We can slow down the process, but, unfortunately, we can't stop a recession in Russia," Igor Nikolaev, director of the strategic analysis department at auditor PKF, told Business RT.
The forecast for 2013 has been shaved, as sluggish exports and fading foreign investment bite. GDP growth is now expected to stand at 2.4% in 2013, compared to a previously forecast 3.6%, and projections for the growth of investment into fixed capital were also slashed to 4.6% from 6.5%, the Ministry for Economic Development says.
The global economy is now also seen less optimisticly, as the International Monetary Fund (IMF) says the world GDP will go up 3.3% in 2013, while previously it was talking about a 3.6% growth.
Part of the global play or..?
The warning for Russia comes as a counterpoint to the common belief that commodities are set to safeguard the country from the possible harsh blows of the ongoing world crisis. Experts from the 'Centre of Development' Institute of the National Research University Higher School of Economics (HSE) now say an 'autonomous' recession – caused by domestic factors rather than any outside shocks – is looming.
"Unfortunately, there are a lot of domestic reasons in Russia to enter an autonomous recession," say HSE experts.
Within Russia, the core of all evil is rising costs and thus weakening competitiveness, the experts explain. The ratio of labor costs is speeding up 3 to 4 times more quickly than in European countries, increasing about 7 – 12% each year compared to 2-3%. Domestic prices are going up about twice as fast as in the west, which creates all the preconditions for a technical recession in the country, as Vedomosti daily quotes Valery Mironov from HSE. Capital outflow and pressure on small businesses also hit competition, creating domestic shocks that make recession in Russia a likely reality even with oil prices remaining high. 
PKF's Nikolaev agrees that domestic factors, such as an excessive tax burden and inadequate plans for social and military expenditure, are going to start playing a major part economically in Russia. The expert insists the ongoing economic slowdown is global and is involving increased number of participants all over the world.
"That's a global recession, where everybody suffers," Nikolaev said. "The only way Russia is unique in is that already at this stage it managed to couple external imbalances with domestic problems," he added.
Autonomous recession: What's in a name?
Though looming for Russia for the first time, autonomous recession isn't something new to the world economy. The data for the OECD and BRIC countries shows that there were 47 autonomous recessions across 24 countries between 2000 and 2012, let alone a global downturn in 2008 – 2009.
"One shouldn't be afraid of an autonomous recession – many of the more prosperous countries have run into that during the 2000s, while Russia – not even once," Mironov explains. "One shouldn't jump off the deep end, pumping demand, while there's no clear evidence about whether the economy is overheated or underheated – we need structural measures to boost production competitiveness," the HSE expert concluded .
Experts believe that such a slowdown may even create an important advantage– it's set to become the final evidence that Russia can't do without quality restructuring of its economy. "… when resources are exhausted, growth also finishes," as Vedomosti daily quotes Vladimir Tikhomirov, chief economist at Otkritie FC."It also puts an end to the stability model based on the inviolacy of centralized and inefficient corporations managed by the State", Tikhomirov concluded.
You can share this story on social media: