Without BRICS' growth, global economy 'would remain semi-depressed' – Medvedev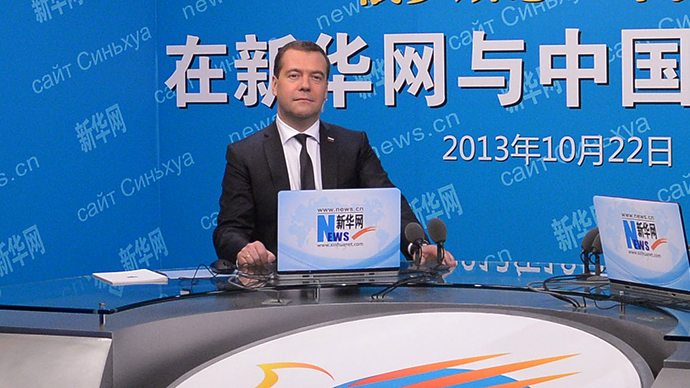 The recession that engulfed the developed world means that emerging economies are now center stage, Russia's PM Dmitry Medvedev said, adding that fast-growing BRIC countries – Brazil, Russia, India, China and South Africa – are the key to recovery.
"If the world economy has a future, it will be successful only in case emerging economies take part in it," Medvedev said in an online Q&A session with China's Xinhua news agency.
"I think our economies, the economies of BRICS countries, for example, and other developing markets are the main economic growth drivers," Medvedev said.
He added that most of the developed world was suffering, including Europe, Russia's biggest trade partner, as well as the world's biggest economy, the US.
"Recently they [the US] had a crisis in relations between the executive and the parliament, and that had a negative impact on the interests of the economy as a whole," Medvedev said, referring to the 16-day government shutdown and standoff with Congress that drove the US almost to the brink of an unprecedented default.
The International Monetary Fund has projected that global economic growth will slow to between 2 percent and 3 percent this year.
"If we are not able to contribute from the side of emerging markets, our global economy will remain in semi-depressed condition," Medvedev said.
"But we are not going to sleep, we are going to cooperate with all of the countries which are represented through various formats, including the G20, BRICS and a number of other forums where we communicate and discuss the perspectives of the world economy," Medvedev said.
You can share this story on social media: