Major companies warn US not to rush Asia-Pacific trade deal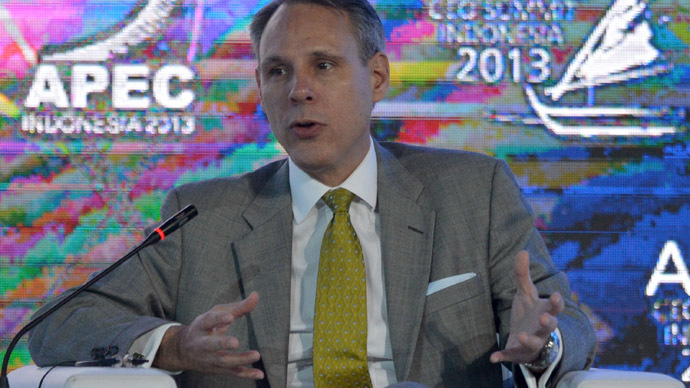 Big US companies like Wal-Mart and FedEx say Washington shouldn't compromise on the 12-nation Asia–Pacific free trade agreement and rush it through by the end of 2013. Policymakers insist each extra $1 billion in exports would create 5,000 jobs.
President Barack Obama has insisted the ambitious Trans-Pacific Partnership (TPP) should be sealed by end of the year, American businesses say the quality of the agreement, not the timing should be a priority.
"For Wal-Mart, we would like to see a high-quality agreement, which is that no sectors and no products are excluded. That there are no compromises that leak into the process for the purpose of speed," Scott Price, the US retailer's CEO in Asia, told Reuters at the Asian Pacific Economic Cooperation (APEC) summit in Bali.
"If it takes more time in order to have a high quality agreement, that's what we should have," Scott Price added.
Tackling high jobless figures is now one of the key economic targets for the US economy.

The unemployment rate in August stood at 7.3 percent, while the goal is 2 percent. Elimination of a number of trade restrictions under the free trade agreement will create thousands of new jobs for America, which explains the country's desire to have the agreement completed as soon as possible.
"The president has not only pushed us internally but also his counterparties in other countries to say that we will move forward, and maybe not everyone will be there at the time and you can go in the second round," said US Commerce Secretary Penny Pritzker told APEC on Sunday.
President Obama hoped to talk to potential partners at the APEC meeting, but had to cancel the trip at the last moment due to the partial government shutdown.
In the framework of TPP negotiations, the US is being pressed to lift import restrictions on such economically sensitive products as sugar, dairy and clothing. The counterparts, in turn, are supposed to adopt new rules on digital trade and the way state – owned enterprises are operated. Increased protection for workers and environment is also among the terms put forward by the US.
The TPP free trade agreement would embrace some 800 million people, as well as about a third of world trade and nearly 40 percent of the global economy. Among the member participants are 12 countries including the United States, Japan, Canada, Mexico, Australia, New Zealand, Peru, Chile, Vietnam, Malaysia, Singapore and Brunei.