Unilever unveils purchase of 82% of Kalina for €390 million
Published time: 14 Oct, 2011 07:52
Edited time: 14 Oct, 2011 16:24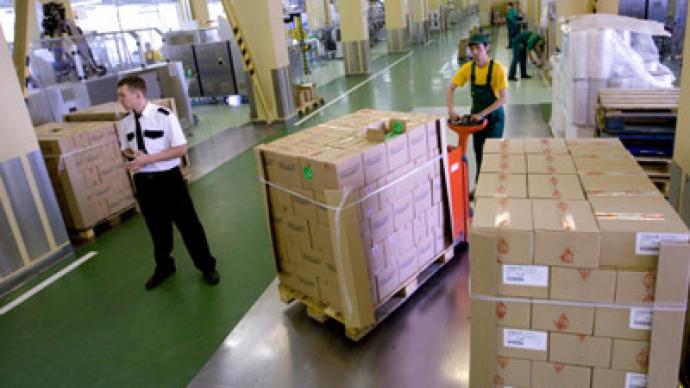 Global consumer giant Unilever has announced it will pay €390 million for an 82% stake in Russian personal care products producer, Kalina.
The move, which is subject to regulatory approval from Russian competition authorities, values Kalina at €500 million, or 21.5 billion roubles.Kalina, based in Ekaterinburg, is forecasting a FY 2011 turnover of €303 million, and has skin and hair care, and oral hygiene products making it a Russian market leader.
Unilever CEO, Paul Polman, says the purchase will transform the global giant's position in the Russian personal care sector, fulfilling a range of criteria including a fast growing market, extensive and well respected brand portfolio.
"We are delighted to be acquiring Concern Kalina. This will transform Unilever's personal care business in Russia, giving us leading positions in skin care and hair care, as well as establishing a presence in oral care. It will also strengthen and re-balance Unilever's portfolio and competitive position in Russia, an emerging market with considerable potential and one of our priority countries."
Kalina CEO Alexander Petrov, said the purchase of the majority stake by a global giant is a vote of confidence in the strategy of the Russian company.
"The coming together of our company with one of the most successful and best-known global companies represents a tremendous vote of confidence in the strength of our brands, the people who have built them and the potential of the Russian market. The combination with Unilever will also provide our employees with opportunities in one of the best companies in the world."
Kalina and Unilever expect the acquisition to be completed by the end of the year, with Unilever planning to launch a mandatory tender offer for the minority holding after that. The announcement came after a report overnight in the Wall Street Journal saw Kalina shares jump more than 40% on Friday Morning in Moscow.
Anton Safonov, Investcafe analyst, notes the agreed price was significantly above the market.
"As for October 13 capitalization of the Company on MICEX stood at €329.12 million, which, given the Company's net debt, means the Company's price of €330.14 million. So, the possible price for the deal assumes the premium of more than 51%."
Safonov also said this purchase of the market leader wasn't a huge investment, but more a strategic deal, adding that among other advantages the deal could bring here was a bigger choice of products.
"That's a very good sign both for Kalina and the Russian market as a whole, indicating that foreign investors value Russian companies quite high. To compare, Unilever revenue last year was at €44 billion, while Kalina's revenue this year has gone just a bit above 12.5 billion roubles, or €290 million. In any case, for Unilever that's not a big purchase but a deal that'll let them get one of the country's leaders in the skin care segment (more than 30% of the market) and the oral care one (more than 45% of the market). Given support Unilever can allow, the assortment is likely to broaden significantly broader, as well as the market share may increase."