TransCreditBank posts FY 2010 net profit of to 7.5 billion roubles
Published time: 28 Apr, 2011 13:45
Edited time: 28 Apr, 2011 18:38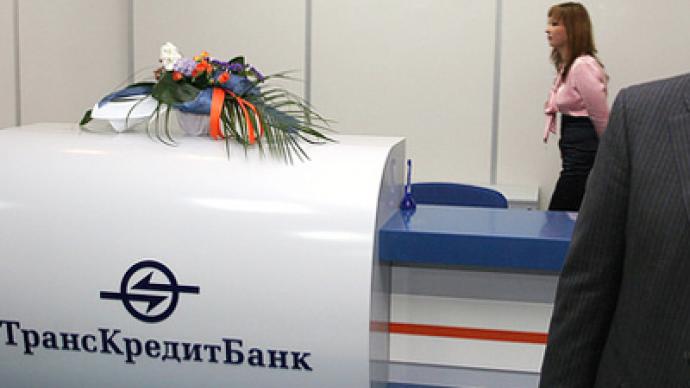 Russian transport and railway Bank TransCreditBank has posted FY 2010 net profit of 7.5 billion roubles under IFRS.
The FY 2010 net income was up 84.3% year on year, with net interest income increasing 12.1 % year on year to 14.5 billion roubles, assets rising by 51.2% to reach 390.9 billion roubles and its loan portfolio growing 39.4 % year on year to 215.8 billion roubles.
Net profit for 4Q 2010 skyrocketed 450% from 4Q 2009 to 2.3 billion roubles, with net interest income reaching 4.2 billion roubles, up 28.3% year on year.
The Bank also noted a prevailing share of corporate clients, which totalled 53% of its net result and 72% of its income.
The quality of a loan portfolio also improved, with the share of NPLs overdue beyond 90 days in gross loans falling to 3.6% from 5% in 2009 and provisions ratio reaching 154.1%, which compares to 150% in 2009.
Oleg Panarin, TransCreditBank's Vice President, was very upbeat about the results and expected further growth from synergy with VTB bank.
"TransCreditBank earned a record full-year profit of RUB 7.5 billion. The Bank nearly doubled its profit from 2009, which was also a very successful year for us. Despite intense competition for quality borrowers and declining lending rates, we were able to increase our core income, grow loan portfolio and at the same time maintain good asset quality. We believe that with Bank VTB as our new strategic shareholder we are well-positioned for further growth of our corporate and retail business."