TEPCO to seek $125bln as Fukushima costs double
Published time: 7 Nov, 2012 11:10
Edited time: 7 Nov, 2012 15:10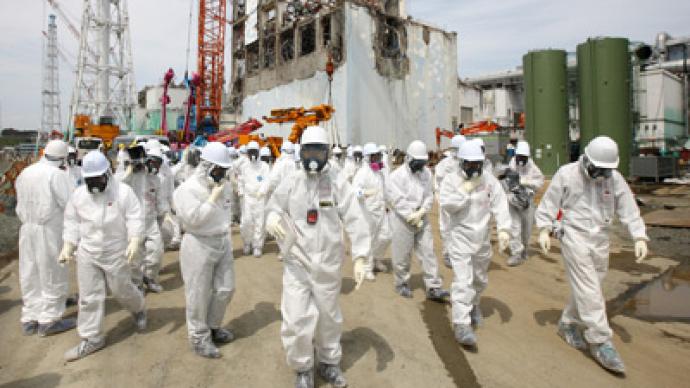 Tokyo Electric Power Company (TEPCO) is looking to ask for further help from the state as cost of the clean-up and compensation after Japan's Fukushima nuclear disaster may reach 10 trillion yen ($125bln).
­"There is a view that we may need the same amount (again) of additional money for the decontamination of low-level radiation areas and costs of temporary facilities for storing waste," the company said in a statement as it presented a new management plan on Wednesday.
In April TEPCO estimated that the total costs of the Fukushima disaster would be 5 trillion yen ($62bln). Now the company said it would seek up to up to 10 trillion yen of government help – around 2% of Japan's gross domestic product – to pay the huge bills.
"It will become difficult for us to raise money from the private sector so we will have to rely on the government for the financing of all of our business," TEPCO said in a statement.
The company's plan includes building a new office in Fukushima to speed up the processing of compensation claims, and to provide more than 4,000 jobs in Fukushima prefecture.
TEPCO Chairman Kazuhiko Shimokobe hopes the company could be returned to being a fully-fledged private-sector company. But Japanese authorities are not agreeing.  "For the foreseeable future TEPCO will remain under the control of the government and we will have to support the company," the Minister for National Policy Seiji Maehara said at a separate briefing.
The Japanese electricity generator was nationalized in April when it received one trillion yen in exchange for granting the government a controlling stake.
The utility, one of the world largest generators supplies electricity to millions of people, including in and around Tokyo, found itself at the brink of bankruptcy after pouring billions into the clean up. Last month TEPCO estimated it will lose 45 billion yen this year, well down on the 160 billion yen initially forecast.