Tax evasion priority number one at G8 summit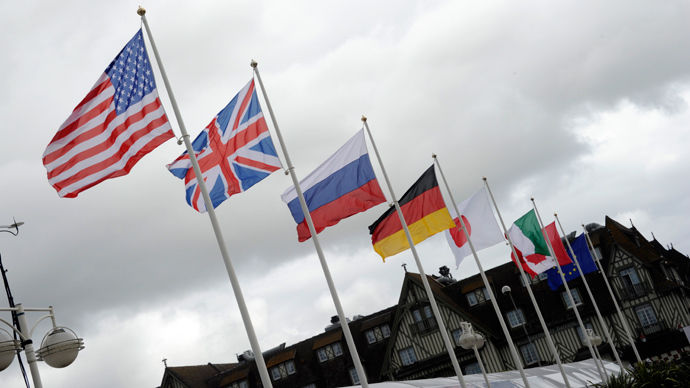 As the leaders of the world's most powerful and wealthy nations convene in Northern Ireland, taxes, transparency, and trade will top the agenda.
British Prime Minister David Cameron has made his agenda clear in a nicely packaged alliteration- the "three T's" will be the focus of day one at Belfast Waterfront Hall.

"Making sure we have more trade deals so we keep prices down, making sure we have greater transparency so we can help developing countries get the tax and revenue that they need, and this issue of taxation, making sure we crack down on tax evasion and aggressive tax avoidance, so right across the world, countries get the tax revenue they need to keep taxes down for hard-working people," Cameron said Monday morning, outlining his agenda for the day. 
Though terrorism and the Syria crisis will undoubtedly arise, but the UK, the host, is determined to focus on global economic issues and put into place measures to bring about global economic recovery.

EU and US to enter free trade agreement

President Obama and PM Cameron announced at 15:30 local time that America will host the first round of EU and US free trade agreement talks in Washington DC next month, a move welcomed by both Congress and the American business community. Obama hailed the agreement as 'ground-breaking'.

"We are talking about what could be the biggest bilateral deal in history," said Cameron.

The talks could lead to a deal within 12 to 18 months, and could bring an additional $15.7 million (£10bn) to the UK economy, or on average, $600 (£380) per household, The Guardian reported after a briefing at the summit.

Combined, the EU and the US account for half the world's GDP, and the trade agreement will be beneficial to both parties, and demonstrate the political commitment between the two allies. 
European trade ministers had already ironed out the details and on Friday put forward a free trade agreement.

"This is a real example of where meetings like this make a genuine difference to families in Britain," the spokesman said.
Before all the leaders gather at the summit, David Cameron, US President Obama, French President Holland, German Chancellor Merkel, Italian Prime Minister Letta, as well as Presidents of the European Commission and European Council, will convene to discuss EU-US trade.

Tax crack down
The world's top economies are losing steam - the eurozone is stuck in a double-dip recession, Chinese manufacturing data is weak, the Japanese trade deficit continues to expand, and the US is only slowly showing signs of economic recovery.

In their opening comments, both the President of the EU Commission  and European Council and have pledged support to shutting down banking secrecy and offshore banking.

I hope that bank secrecy and tax havens will soon belong to the past.In Europe we are leaving no stone unturned in finding out how taxes are paid," said Jose Manuel Barroso, President of the EU Comission.

"Making progress on the banking union is absolutely key for maintaining financial stability in the euro zone," said Herman Van Rompuy, President of the European Council.

An estimated $8.5 trillion sits in offshore accounts, which doesn't draw tax revenue back to the source of the wealth, and has come under attack from politicians as the economic crisis deepens.
Companies, most notably Apple, use creative tax schemes to shelve profits and avoid taxes, a practice which is currently not a criminal offense.
Leaders of the G8 will discuss multinational cooperative tactics to put a halt on tax evaders.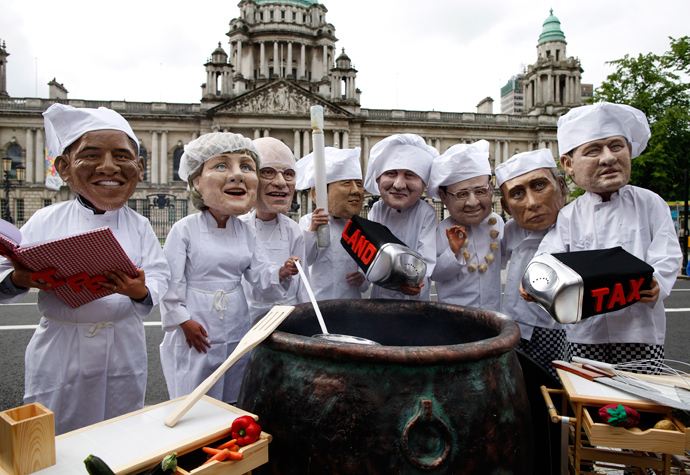 In order to track down the tax evaders, the US and the UK have called for an open information exchange on the bank accounts of individuals and multinational companies. 
Oxfam, a UK-based charity, estimates that some $18.47 trillion is being held by individuals in tax havens around the world. Of this some $7.18 trillion is in accounts situated in British Overseas Territories and Crown Dependencies.
The same study found that the UK lost out in over $156 billion in tax revenue from those individuals who dodge mainland taxes by keeping their assets offshore.
David Cameron will call for an clamp down on tax evasion, but he may hit a wall convincing his international counterparts, as he has made little ground at home on the issue.

Ben Arris, editor-in-chief at Business New Europe, told RT its not realistic to ban tax havens over night. It will be a long and drawn out process, because some countries have specifically catered and developed their economies around the loose tax haven regulations.

"You've got several countries- Cyprus, Luxembourg, Switzerland- who are offering these services as a business, it becomes a big part of their economy, and it's very difficult to a small country like Luxembourg they can't do it because they have no other way of making money," Arris told RT. 
The other risk is that a country could choose not to abide by multinational laws, thereby creating a niche demand for their illicit services.

If "one tiny little country that chooses not to abide by this, and offers dodgy or convenient services for people trying to hide money, means that the whole thing becomes a muck root, there is no way of controlling it," Arris told RT.

The tax evasion topic spills into the transparency theme, which focuses on developing countries and commodities.
Transparency in the natural resources industry would force industries to disclose more information about payments, taxes, and operations in countries where they extract gold, palladium, diamonds, oil and gas, and other precious metals.
David Cameron will hold his first bilateral meeting with Japanese Prime Minister Abe before the conference, at 11:30am local time.
At 13:45 Cameron will welcome the leaders into the Lough Erne conference center, and at 19:00 bilateral meetings with leaders are scheduled to take place.
Leaders will reconvene on Tuesday.

You can share this story on social media: