Japan's PM Abe fires 'third arrow' into rising wages and special economic zones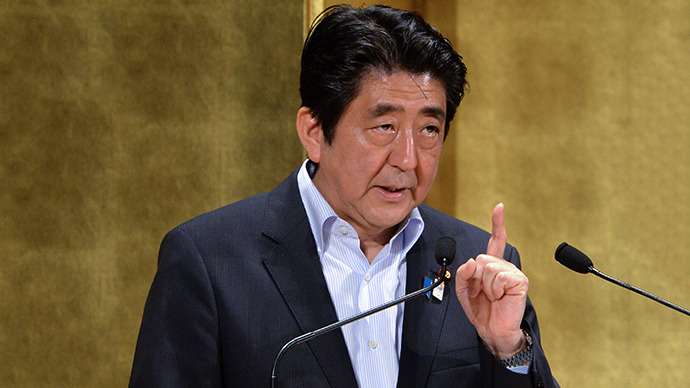 Japan's Prime Minister Shinzo Abe has unveiled the third and last package of measures in his long-term plan to revive the world's third-biggest economy.
Raising incomes by 3 percent every year and setting up special economic zone for foreign investment are among the key points in his plan.
Shinzo Abe gave a speech on Wednesday to present the third plank in his "Abenomics" program, aimed at boosting economic growth in Japan. The new package of measures – the so called "third arrow" is the last batch of initiatives in the new economic development strategy.
The draft measures are due to be approved by the cabinet on June 14 along with macro-economic policy guidelines including fiscal reform targets to address Japan's massive public debt, Reuters reports.
Abe's introduction of extremely aggressive monetary easing and boosting public spending has yet to prove itself. The Nikkei index has jumped in recent weeks as the BoJ is flooding the economy with money, force-feeding the stagnant Japanese economy. The PM again spoke of his desire to encourage more women to work.
"Now is the time for Japan to be an engine for world economic recovery," Abe said. "Japanese business, what is being asked is that you speed up. Do not fear risk, be determined and use your capacity for action," Abe said.
Now Abe intends to deepen his plan. In order to attract foreign business and raise private investment in Japanese infrastructure, he plans to set up "strategic economic zones" where private companies will be welcome to operate public facilities such as airports.
In his speech Abe also promised incomes in Japan will be raised by 3 percent annually to support the consumers' purchasing ability in case the government reaches its target inflation rate of 2 percent in two years time.
Abe also pledged to raise Japan's per capita gross national income by more than 1.5 million yen ($15,000) in 10 years from around 3.84 million yen in 2012.
"I think the most important target to achieve is per capita gross national income," Abe said in a speech. "That's because the aim of our growth strategy is nothing other than to create jobs for enthusiastic people and raise take-home pay for those who are working hard," he said. "In short, to let households benefit. That's the point."
However, investors reacted with confusion to Abe's speech, as it lacked details on how exactly is his government plans to achieve the goals announced after more than two decades of economic stagnation.
"The comments from Abe lacked some of the detail the market had been looking for and left it disappointed," Reuters quotes the head of European FX strategy at Morgan Stanley Ian Stannard as saying.
Tokyo share prices dropped 3.8 percent Wednesday on the disappointment with Abe's speech. The Nikkei fell extending its losses that started on May 23, as investors became cautious after a rally of more than 50 percent in the previous weeks.
You can share this story on social media: