Sukhoi Superjet maker sees financial losses double
Published time: 30 Jul, 2013 11:46
Edited time: 31 Jul, 2013 09:41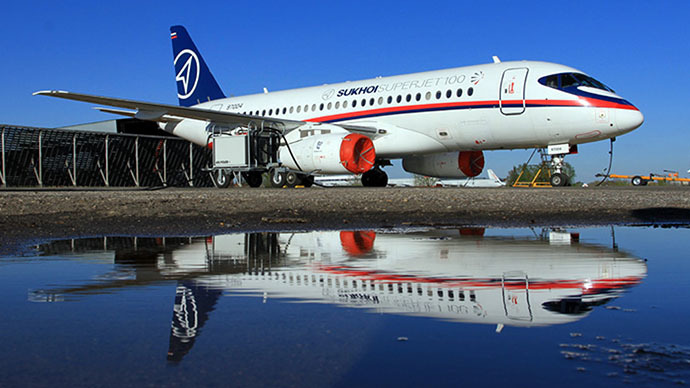 Russian aircraft maker Sukhoi Civil Aircraft has posted first half losses that increased by 114 percent to almost $200mn compared to the same period last year. The plane builder has denied it is close to bankruptcy and says it is healthy financially.
Sukhoi revenues fell nearly 20 percent to $60mn and its  "other expenses"  grew from $200mn to over $450mn, according to the company's financial report conducted to Russian accounting standards.

The damage was mainly due to foreign  exchange differences and the need to pay debts in foreign currency, finam.ru quotes the report.

Earlier this month the maker of the Sukhoi Superjet denied reports it was close to bankruptcy. The firm said it has enough funds to cover the accumulated $2bn debt.

"Credit payments and fulfilment are on schedule and comply with current financial development strategy in full. Work with the Sukhoi Civil Aircraft credit portfolio and securing the debt service obligations is in progress. In 2012 VEB opened a line of credit for $1 billion for SSJ 100. These actions have the full support of the company's major shareholder – JSC Sukhoi Company, as well as of JSC UAC [United Aircraft Corporation]", SCA clarified.

Sukhoi Civil Aircraft is reportedly in talks to restructure its debt.

The aircraft producer says it will stick to its production plan of 26 aircraft this year and another 40 expected in 2014.

Sukhoi Civil Aircraft earlier said it plans to break even in 2015, when total revenue should be above $1.5 billion.