Superjet survives: Russia's top aircraft-maker Sukhoi denies bankruptcy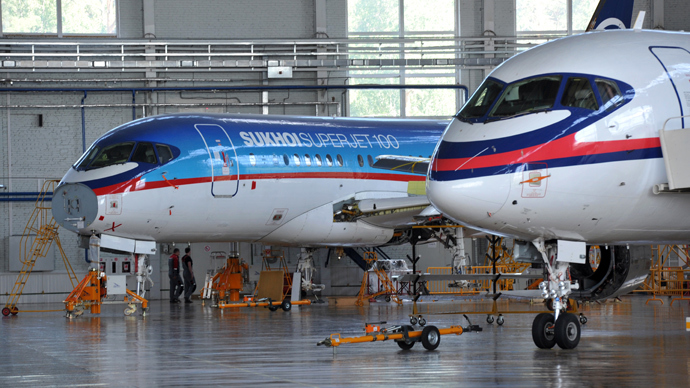 The maker of the Sukhoi Superjet has denied reports its on the brink of bankruptcy. The Sukhoi Civil Aircraft (SCA) company says it has enough funds to cover the accumulated $2bn debt.
The news of Russia's flagship aircraft producer facing a default challenge hit the headlines on Thursday, which came out of the blue for the very company.  Media reports suggested Sukhoi Civil Aircraft company would default if it didn't meet its obligations by the year end, citing its $2bn debt.
In a press-release, SCA said that it had never concealed the fact that the SSJ 100 project was largely financed with the borrowed money. "More than 60% of the project cost was financed by JSC "Sukhoi Civil Aircraft" via credit resources," the release said.
"Credit payments and fulfilment are on schedule and comply with current financial development strategy in full. Work with the Sukhoi Civil Aircraft credit portfolio and securing the debt service obligations is in progress. In 2012 VEB opened a line of credit for $1 billion for SSJ 100. These actions have the full support of the company's major shareholder – JSC Sukhoi Company, as well as of JSC UAC [United Aircraft Corporation]", SCA clarified.
The Russian aircraft producer assured it'll stick to its production plan, which involves a total of 26 aircraft this year and additional 40 expected in 2014. To smooth things, SCA announced exact financial targets, saying it plans to break – even in 2015, when total revenue goes above $1.5 billion.
"By 2018 total revenue will amount to more than $2 billion. An operating surplus will be achieved this year and starting from 2015 Sukhoi Civil Aircraft will achieve positive net cash flow, which will make the company financially stable," the press-release said.
You can share this story on social media: