Russia's aviation flagship project the Sukhoi Superjet on the brink of default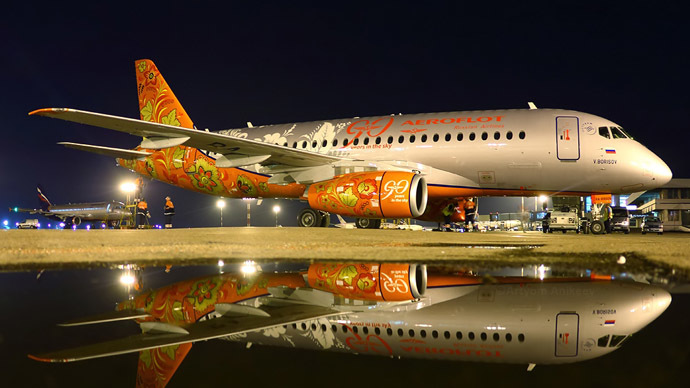 Russia's Sukhoi Civil Aircraft company – the maker of the Sukhoi Superjet (SSJ) – has accumulated $2 bn in debt and failed to meet its credit obligations. The problem needs to be settled by the year end, otherwise the company will default.
Sukhoi Civil Aircraft is now more than $600 million in debt to the State Corporation Bank for Development and Foreign Economic Affairs (Vnesheconombank), with an additional $300 million unsettled to related parties, Kommersant daily reports. On top of that, Russian aircraft manufactuter violated the terms of servicing the loans from the European Bank for Reconstruction and Development (EBRD) and its financial obligations to the Germany's WestLB, and Russia's VTB banks.  The banks agreed not to require an early loan repayment, but by the end of 2013 the money needs to be there.
A recovery plan would see half of the company's debt settled with bonds under state guarantees. Vnesheconombank could also help with an estimated $483.9 million. This money could be raised through the sale of a 5% stake in EADS, the parent company of Airbus, according to a Kommersant source.
Given the scale of the SSJ project, state support looks logical here, Oleg Panteleev, Chief Editor of Aviaport, told Kommersant. "… SSJ is a pilot project for Russia's airline industry, that's why it's crucial for Sukhoi Civil Aircraft company to meet its obligations to its creditors, as well as to retain confidence from international partners," Panteleev said.
Sukhoi Civil Aircraft company is reportedly being in talks to restructure its debt, where it's also checking its position with the World Wings airline that holds a 25%+ 1 stake in Russia's company.
About 12 SSJ aircraft were sold in 2012, with the total of 27 planned to be realized in 2013. The company's 2012 IFRS revenue stood at $198 million, with the net loss going above $111 million.