​Soros tells Europe: Imposing sanctions on Russia not the best way forward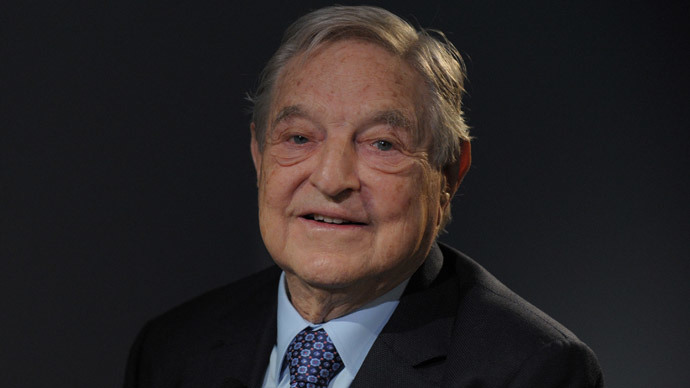 Billionaire financier George Soros says the Ukrainian turmoil is a "wake-up call" for Europe, which should remember its aim and focus on integration. The EU must aid Ukraine financially or technically, rather than cut ties with Russia.
"It's very important to respond and respond the right way which is not necessarily to impose sanctions on Russia, but to actually help Ukraine financially and also technical assistance, something like a European Marshall Plan for Ukraine, that would be the right response," Soros said in an interview to Bloomberg.
Under the post-war Marshall Plan the US provided help to Western Europe worth billions of dollars – in the form of food, fuel, machinery and investment.
Europe may face 25 years of stagnation if government officials don't make an effort to strengthen and further integrate the currency union, Soros warned. Such a prolonged economic slowdown may prove unsustainable for Europe, he added.
The financial crisis in Europe which began in 2010 has almost ended. However the region is still facing a political crisis, which has split the area into country creditors and country debtors, Soros said.
"You have to go further with the integration. You have to solve the banking problem, because Europe is lagging behind the rest of the world in sorting out its banks."
At the same time banks are oriented to passing the stress tests, instead of stimulating the economy by capital injections in business, Soros believes.
According to Soros, the EU gave a poor option to Ukraine which gave the advantage to Russia.
"Europe, true to form, demanded a lot and offered little," Soros said. "It was not difficult for Putin to come up with a better offer."
The crisis in Ukraine emerged last year when former President Victor Yanukovich decided not to sign an association agreement with the European Union, and instead opted for help from the Russia. The move caused mass protests in Ukraine which led to Yanukovich's overthrow. Now the country faces an economic crisis and military pressure from Russia.
George Soros, a magnate and investor is known as "The Man Who Broke the Bank of England" because of his short sale of $10 billion worth of pounds, giving him a profit of $1 billion during the 1992 Black Wednesday UK currency crisis.
You can share this story on social media: