Russian tire industry set for retread
Published time: 30 Jun, 2011 09:09
Edited time: 30 Jun, 2011 14:31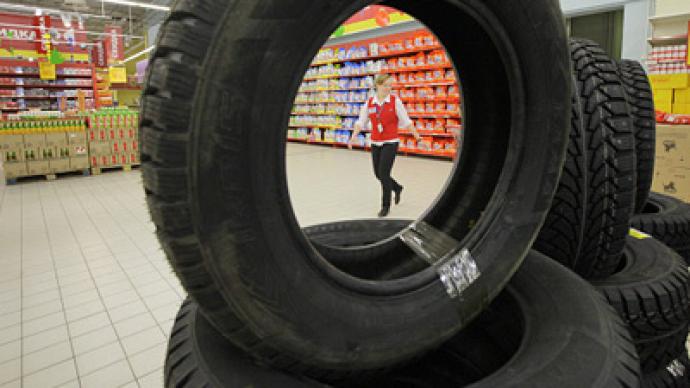 Germany's Continental AG is withdrawing from its Russian joint venture Matador Omskshina, in which it owns a 50% stake. Sibur Russian Tires is expected to buy its partner's share for $15 million.
The consolidation of 100% of shares in the joint venture should make it easier for Sibur to complete its planned withdrawal from the tire business and proceed with the deal with Rostechnology and Pirelli. As for Continental, it is planning to build its own factory in Russia and become its former partner's direct competitor.
Deputy operations director at Sibur-Russian Tires Dmitry Sokov and Sibur press secretary Rashid Nureev confirmed the existence of negotiations with AG Continental, noting that the decision aligns with both parties strategic interests.
The offer was made by AG Continental and was welcomed by Sibur management as a mutually comfortable move for both companies given that Sibur is in process of selling its tire business, they agreed.
Sibur is examining three possible ways of selling its non-core tire business whereby Rostechnology, Pirelli and Tatneft are interested in Sibur tire assets. The Commission for international investments has approved Sibur's and Tatneft's consolidation of tire businesses in March 2011.
Mikhail Pak, an analyst from IC Aton, said the deal has a strong focus on the companies' strategies.
"I reckon that for Sibur this deal is more important in terms of the company's strategic plan rather than as a way to cash in on the deal. Continental as a partner in JV could thwart Sibur's strategic deal with Pirelli," Pak said.
Vitaly Kryukov, an analyst from IF Capital, suggests Rostechology will probably become the market leader in Russian tire business.
"I think Sibur will sign a deal with Rostechnology and Pirelli, and afterwards with Tatneft. It is expected that Tatneft in a long-term perspective will withdraw from tire business and Rostechnology will increase its market share in tire business," Kryukov believes.
Denis Borisov, an analyst from the Bank of Moscow, says the industry competition is too high to raise profits for local manufacturers and only export regulations can enhance the situation
"Sibur has looked forward to selling its tire business since 2002. Today it probably received a reasonable offer. The tire business is a non-core business for Sibur and it is clear why it is so obsessed with the idea to withdraw from this business. Above all, the market is highly competitive and overloaded by exports of tire products and strong Russian market leader Nizhnekamsk Tires, which is, nonetheless, experiencing hard times. Although the country's resource base is huge, the cost of these resources and production lags behind global competitors' production efficiency, notably, China's production. This industry could become profitable for domestic companies and international manufacturers in case the government implements export restrictions and attracts international investors with their technology," said Borisov.
Borisov adds that AG Continental could step into the market as a strong independent international competitor
"Assuming that negotiations accelerated and Rostechnology shows interest in the tire industry, the proposal for export restrictions could be agreed and AG Continental will be, so to speak, 'just in time' with a local production facility," he said.