China bird flu sends Europe, Asia stocks down
Published time: 5 Apr, 2013 10:20
Edited time: 6 Apr, 2013 18:31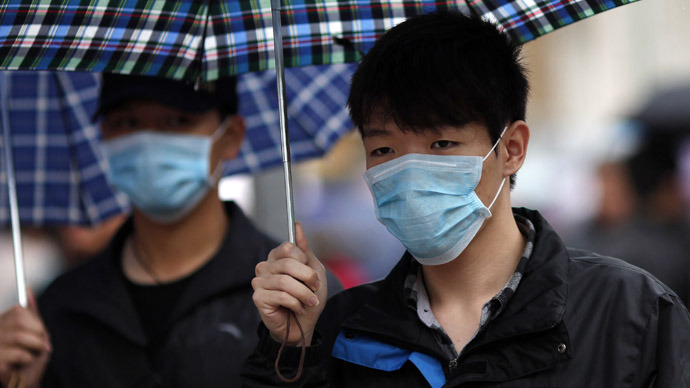 China's newest strain of avian flu, which has killed at least six people, has sent stock markets downhill. Local stocks were first to suffer, with shockwaves heading across Asia and into Europe. The news mainly hurt tourism and travel-related shares.
Shares in Chinese airlines declined to their lowest in nearly four years following the news of six deaths from the H7N9 bird flu virus.

The deaths are more than a third of the 14 confirmed human infection cases in China. Most of the affected were on the eastern coast near Shanghai. Mass slaughter of poultry has been ordered in the region and all live poultry markets are closed.

Earlier in the week Shanghai issued a level 3 flu alert, the second lowest stage of four.

The number of flu victims has been low, it's believed, due to the fact the H7N9 virus cannot be transmitted from human to human. The WHO says no such cases have been registered so far.

Guangzhou-based China Southern Airlines Co. which deploys around 78 per cent of its capacity on the domestic market, was down 10.6 per cent on Friday, the stock's biggest one-day decline since April 27, 2009.

European airlines are also down over the flu fears. Air France-KLM, Lufthansa, IAG and Ryanair fell by between 3.3 and 4.7 per cent.
"The sector is reacting to fears of a new pandemic of bird flu in China, which would hurt air traffic," a Paris-based airline sector analyst told Reuters. "For now, investors are pricing in a bad scenario, although if you look back four years ago, Chinese authorities did a good job dealing with the pandemic back then, and the airline sector didn't suffer much."
In Hong Kong, the overall index closed at a four-month low, led by falls in airline shares over fears of reduced demand for air travel. Shares of Air China dropped 9.8 per cent, which was company's worst single-day loss in nearly four years.

"People are worried the new bird flu would develop into a disaster like SARS ['Severe acute respiratory syndrome', which killed thousands in 2003]," Davin Wu, a transportation analyst at Credit Suisse Group AG, told Bloomberg. "At least leisure travelers will be cutting back their trips to China." 
Analysts say the situation will only improve as the Chinese flu danger is over.
Though geopolitical analyst and author William Engdahl told RT that it is way too early to start the alarm, as the symptoms of the H7N9 are rather common.
"I think it's way too early. WHO lists the symptoms of H7N9 as pneumonia, severe cough, fever and shortness of breath. These are symptoms that can apply to a myriad of illnesses. 6 people have died in China in a population of 1.3 billion, but we haven't conclusive proof of what exactly they died of. They may have had severe pneumonia and other respiratory complications and simply died of those. But because doctors identified this H7N9, they claim it's the death owing to the bird flu" he said.
He supposes that the pharmaceutical industry might be flaring up the hysteria and influencing health organizations.  

"It's interesting WHO is again recommending 'Tamiflu', a company that Donald Rumsfeld has huge interest in. And it was involved when he was Secretary of Defense, buying loads of this Tamiflu to American soldiers. Look in detail what happened during the 2008 flu hysteria. WHO was corrupt to the top levels. The scientific advisory board of the WHO was influenced. Most of the members were receiving money from the big pharm industry. The pharm industry was sitting on the recommendation meetings to tell Margaret Chan of the WHO to declare a pandemic. They changed the definition of pandemic in April of that year to include only geographical spread of certain symptoms which were the common cold," Engdahl told RT.