Severstal posts FY 2010 net loss of $577 million
Published time: 3 Mar, 2011 08:00
Edited time: 3 Mar, 2011 11:33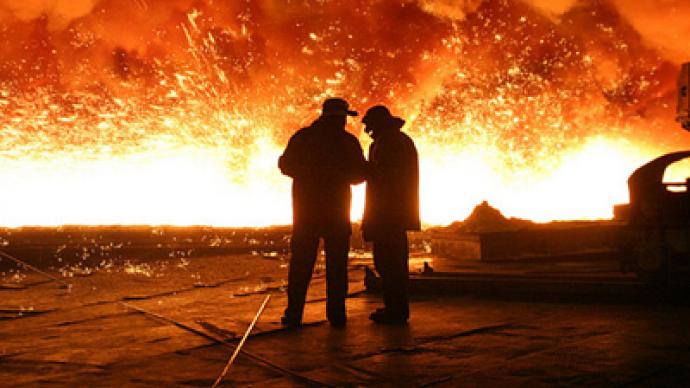 Russian steelmaker, Severstal, has posted a FY 2010 net loss of $577 million under IFRS.
The net loss compares with a restated FY 2009 net loss of $1.037 billion, as FY EBITDA rose 105% year on year to $3.263 billion, on the back of a 41.5% year on year rise in revenues to $13.573 billion.
For 4Q 2010 Severstal posted a net loss of $352 million, after posting a 3Q 2010 net profit of $368 million, as 4Q EBITDA rose 6.4% quarter on quarter to $899 million, as 4Q revenues rose 7.5% quarter on quarter to $3.726 billion.
Severstal says the FY and 4Q net losses reflect the discontinued Lucchini and North American operations, with net profit from continuing operations of $1.427 million.It added that a 'solid financial performance' reflected a continued rebound in the global economy with a 27% increased EBITDA contribution from its Nordgold operation.Looking ahead Severstal forecast continued improvement in the steelmarket globally with an 8% increase in consumption in the Russian and CIS market estimated for 2011.
CEO, Alexey Mordashov, noted the positive outlook and financial restructuring, adding that further investment in steel and gold was likely, and that modernisation of Severstal's North American operations would underpin its competitive position.

"The world economic recovery last year brought more visibility and optimism to our business and from the second quarter of 2010 we performed in line with our expectations. During the year we were cash generative and further strengthened our financing structure. Our strength as an integrated steel and mining group means Severstal is well placed to benefit from these trends. We continue to focus our investment activities on areas where we see the greatest potential for growth and as a result we are further investing in steel-related mining and gold projects, as well as in the expansion of our Russian steel operations. In North America we are focusing our investment on completion of modernization projects at competitive assets. Accelerating economic growth in our key markets in 2011 should produce another strong year for Severstal as demand for steel improves and raw material prices rise."