French banks get blow from S&P, as Eurozone crisis weighs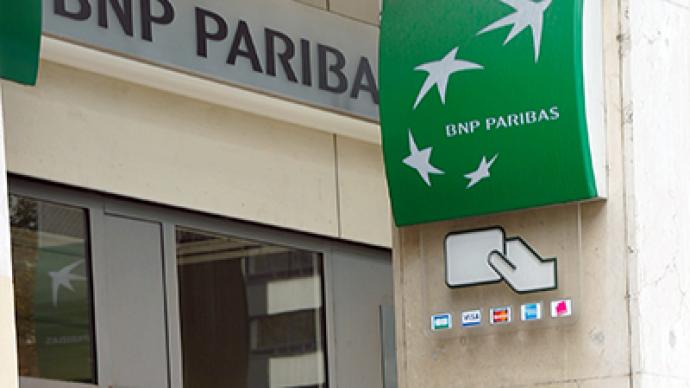 S&P downgraded three French banks, including the 3rd biggest lender in the world BNP Paribas, saying the outlook for another 10 lenders was negative. The agency said European turmoil was increasingly pressing, with economic data backing the gloom.
Banque Solfea and Cofidis were the other 2 French lenders that came into the S&P firing line. The agency cut the outlook on another 10 banks including such market giants as Societe Generale, and Credit Agricole to negative from stable. In its decision, S&P lowered its long-term rating on BNP Paribas to "A+" from "AA-", while cuttingsmaller players Banque Solfea to "A-" from "A" and Cofidis to "BBB+" from "A-". The forecast on both short – and long – term ratings was negative."…the constraints of a relatively high public debt burden, reduced external competitiveness and persistent high unemployment are being aggravated in our view by the ongoing eurozone crisis, a more protracted recession across Europe, and lower domestic growth prospects", S&P said in its press-release. "We consider that this economic environment, including the persistence of low interest rates, will put pressure on domestic revenue growth for French banks in 2013-2014," the agency added.The recent economic data has indeed been saying that the second largest European economy is coming closer to a recession, agrees Anna Bodrova of Investcafe. "While it [France] remains one of the strongest European economies, the country is clearly suffering financial difficulties," the analyst added.Earlier this week the central Bank of France said the $2.56trln economy was set to contract 0.1% in 3Q, which will mark the first quarter of contraction since the start of 2009.Another economic benchmark released this week was a preliminary Purchasing Manager Index (PMI) that is used as an indicator of business activity. Despite a slight improvement in October to 44.8 from a September reading of 43.2, the figure showed the French economy remained under pressure. Any figures below 50 signal contraction."The latest Flash PMI data for France indicate a lack of any significant improvement from the severe weakness seen in September. With GDP looking likely to have contracted in Q3, the latest poor figures suggest that the downward momentum has been carried over into Q4 and the economy could well end the year in recession. A further weakening of business sentiment in the service sector to its lowest since the start of 2009 underlines the pervasive gloom among businesses at present as uncertainty drags on and investment decisions are delayed accordingly," Jack Kennedy, Senior Economist at Markit and author of the Flash France PMI, commented in the report.The country's Government also cut its official forecast for the next year, with France's President Francois Hollande saying the economy was expected to grow just a notch above zero – about 0.8% – which compares to a 1.2% expansion forecast before.
You can share this story on social media: