S&P puts UK's high investment rating on negative watch
Published time: 14 Dec, 2012 08:12
Edited time: 14 Dec, 2012 18:14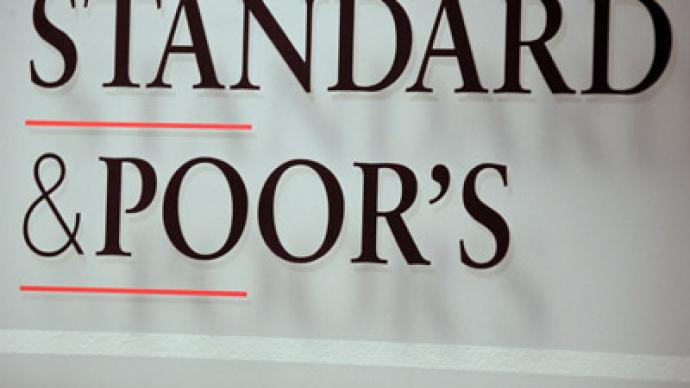 The Standard & Poor's rating agency has threatened to cut Britain's gold-plated triple AAA status over concerns of weaker than expected economic growth.
Standard & Poor's (S&P) said there was a one in three chance it could lower Britain's rating within two years, if economic conditions become worse.
The agency said, it expected Britain's Government's debt to GDP ratio to be increasing until 2015, before it starts to go down again. Growing unemployment and growth shocks may become additional burdens for state finances.
"In our opinion, many of the factors that have restrained growth in recent years will likely continue to do so in the near term," the S&P wrote.
S&P has already downgraded France and the US and only Germany has a secure triple A rating.
Britain's Government debt comprised 68% of its GDP in October 2012, with increasing foreign loans expected to be adding to the figure, says Anna Bodrova of Investcafe. But Britain's weighted monetary policy gives the country a significant advantage,Bodrova adds.
"One needs to understand that talking of loans by Britain, we mean an extremely cautious monetary approach and weighted fund raising, when the market environment allows borrowing at minimum yields," the Investcafe expert explained.
To preserve the highest investment rating Britain now just needs to think over the measures it plans to take to cap further government debt growth and demonstrate that to the world, Bodrova concluded.
Among other leading rating agencies, Fitch placed Britain's rating on negative outlook in March, and will conduct a review next year, while Moody's announced a negative watch in February.
In a similar move Friday rating agency maintained France's AAA on Friday and warned that it might downgrade it during 2013. Earlier France's rating was downgraded by Moody's and Standard & Poor's. However, President François Hollande commented that French government does not decide its policies "according to one agency or another", but "according to the interests of France."