Cameron leans on cliches to avert British decline (Op-Ed)
Published time: 11 Oct, 2012 01:42
Edited time: 11 Oct, 2012 05:42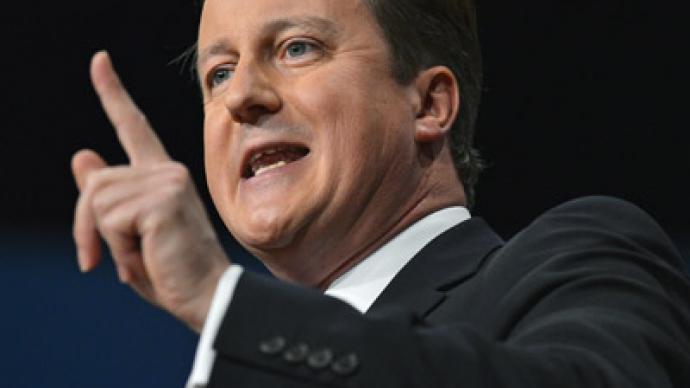 In an overtly patriotic speech filled with big conservative ideals, David Cameron called for Britain to sink or swim in a tough global world – but failed to say in any detail how it should be done.
­Cameron urged Britain to "sink or swim," telling delegates that the UK faced an "hour of reckoning." He insisted that only "effort and aspiration" can stop the UK from becoming a second-tier economy, which, like many countries in Europe, would be tied down by "fat welfare systems" and "unreformed public services."

He hammered home his message that only the coalition policy of economic prudence could pull Britain out of recession, while Labour's increased borrowing would be nothing short of economic suicide.  

The welfare system formed a key part of his speech. The UK spent £90 billion a year on welfare, and a key policy of Cameron's coalition government has been to reduce this bill come what may.

And he was blunt at first glance with the facts, telling the country that more British children live in households where no one works than almost any other nation in Europe.

But Cameron didn't mention that over one million people in Britain are unable to find work, the highest figure in almost a generation.

On the economy, the prime minster was adamant that the austerity program his party has prescribed the UK is the right medicine. He insisted that Britain is "on the right track," but didn't mention that the UK is in a double-dip recession and has among the lowest growth rates of any developed country. Instead, he blamed the last Labour government, saying, "It's worse than we thought but we are making progress."
Cameron reiterated that the deficit had come down under his leadership, but he didn't explain why borrowing had gone up instead of down.

Nor did he mention the banks, which stood out against Ed Miliband's promise last week in his speech to the Labour Party, that if the banks don't regulate themselves, the government will step in and do it for them.

On taxes he went into attack mode. Rather than defend his government's policy of cutting taxes for 8,000 millionaires by 40,000 a year by next April – while forcing pensioners to pay more – he hit back at Labour's plans to spend more to create jobs, and in a quip at Miliband's rallying call that Labour is a party of "one nation," called them the party of "one notion – borrowing." 

Cameron was clear about what he believes will get Britain out of the mess it's in: aspiration, entrepreneurial spirit and private enterprise. Here the PM had some cause for celebration, as last year more businesses were created than in any other year in Britain's history.

But he also skated over some of the more unpleasant facts about employment in the UK. His claim to have created up to one million jobs in the private sector is only true because of a change in how new jobs are classified.

He also claimed that the UK is first in the world in offshore wind power. Yet about 90% of the £1.5 billion spent building the massive London Array wind farm off the Kent coast went to foreign corporations.

Unsurprisingly, Cameron was big on the NHS. But a recent Tory-inspired shake-up of the health service has left critics arguing that GP's (family doctors in the UK) will be "suffocated, not liberated" by the changes.

Cameron praised the armed forces for their role in Afghanistan, asking everyone in the hall to stand to show their gratitude. But it is the armed forces that will bear the brunt of the government's spending cuts, while many senior figures in the military are warning that Britain will no longer be able to carry out such missions in the future.

On the police, in stark contrast to Miliband, Cameron didn't say a word. Twenty-four thousand police jobs have been written off because of austerity, including 6,800 front line officers. A poster outside the conference hall read "say hello to Dave, wave goodbye to your police service."

The Libdems, a vital part of his coalition government, were left out altogether. Instead, the PM decided to pan Labour while talking up his aspirational version of conservatism.  

Subjects causing any deep divisions in the Conservative Party were also omitted. There was no mention of an EU referendum, something that many in the party are calling for, and none either of the thorny issue of marriage equality.

Cameron, backed by the Libdems, has tried to push for gay marriage as consistent with his conservative values of fairness, commitment and the importance of the family. But it hasn't gone down well with the traditional grassroots Tory activists. 

On Scotland, Cameron was also reticent. He talked a lot about the Olympics and the enormous pride he felt in our athletes, and that they draped themselves in the union flag, regardless of whether they were from England, Scotland, Wales or Northern Ireland, saying that as one nation, Britain would rise together. His speech provoked outrage from the SNP (Scottish National Party), which labeled his backing to keep the union a "campaign that is all about what is best for Westminster." 
On education, the PM was passionate. He cited plans for up to 79 new free schools –  independent but funded by the state – and the 2,000 academies (schools responsible for their own management and budget) that have already been created while the collation government has been in power. Cameron himself went to Eton, one of the country's most expensive and prodigious fee-based boarding schools.

But his plans drew criticism from Christine Blower, the NUT (National Union of Teachers) general secretary. She commented in The Guardian that the academy program is developing a fragmented and unaccountable education system, and that secondary school places are being set up where primary places are needed most.

The PM was firmly businesslike, appealing to the "aspiration nation," and unlike Miliband – who last week memorized his speech to the Labour party – Cameron read from an autocue, saying that as prime minister he was too busy to memorize a speech. 
He was defensive about comments that he was from the party of privilege and that he went to a 'posh school,' and fought back with: "I went to a great school and I want every child to have a great education. I'm not here to defend privilege; I'm here to spread it."

­Edward Cowley, RT