Crowd control: CS gas & water cannons on London police wish list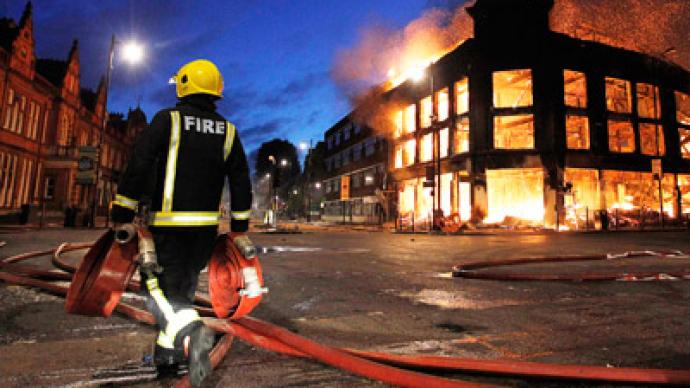 London Police may soon get access to water cannons, CS gas and even more Tasers as a means to tackle pesky troublemakers. The demand for a stronger force was unveiled in a Scotland Yard report analyzing the police response to last August's riots.
In a matter of months, life for your run of the mill London protester could get a bit more complicated once London police get their hands on water cannons. The purchase of water cannon vehicles – at a cost of about $1.6 million – is being already debated. The British press reports the Government has already signaled that it will foot the bill. Currently, the controversial water cannon have only been used in Northern Ireland but never on the British mainland. The review suggests it is "widely recognized as an effective tactic to disperse and distance aggressors". Police chiefs who have vowed to prevent a repeat of last August's riots are also considering whether the notorious CS gas and Taser stun guns could be used to restore order. A review of last summer's riots, entitled 'Four Days in August,' says the Met is developing more "assertive tactics" to tackle public disorder.
Police have long been authorized to use the gas despite the risk of death or serious injury. CS gas causes mild tearing and coughing, though asphyxiation is a risk if in sufficient concentration. It has never been deployed for crowd control in the UK, though the Met is now considering it as an option.The report also revealed a national review is taking place over whether Taser stun guns could be used to tackle rioters as well as baton rounds, intended as a less lethal alternative to regular firearms. The Scotland Yard review also blames police failings for limited equipment and a lack of back-up. Not having enough officers on the ground was also named as a primary reason for the failure to stop the violence. Now the Metropolitan police have responded by demanding a new host of "crowd control" weapons.In August last year, the UK saw its worst unrest in decades. The five summer days of chaos began on August 6 in Tottenham, north of London, after demonstrations against a fatal police shooting quickly spiraled out of control. Several cities descended into an orgy of riots, looting and arson. Following the riots, the British police force was harshly criticized for its "soft touch" and blamed for its lenient and inadequate measures to contain arsonists and looters.Some suggest the London police is getting ready for unemployment protests, political discontent or some other disaster which could prove their current crowd control arsenal remains inadequate.But critics say the move risks further transforming the police into a 'paramilitary force,' making a UK government decision "to gas or not to gas" more of a political decision than a technical one.
You can share this story on social media: