Sour over Syria: American senators attack Russian banks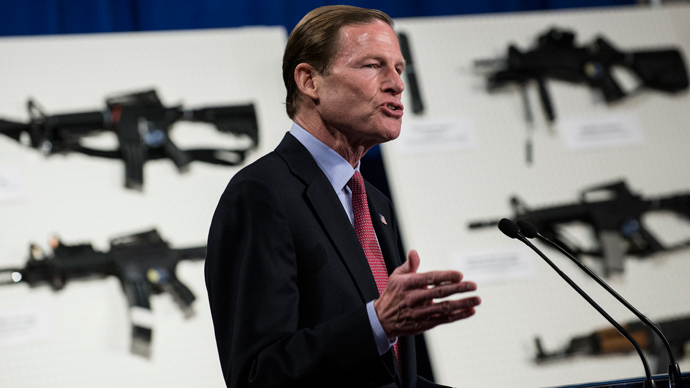 In Cold War style, US Senators have urged the Obama administration to freeze assets of three major Russian banks, ban their activities in the US, and deny employees' entry into the country on the suspicion they are doing business with the Assad regime.
Having failed to galvanize allies for military action, and politically trumped by President Putin's proposal for peaceful intervention in Syria, American congressmen have now turned to soft power to regain a grip on the Syria conflict.  The senators are blaming Russia's banking giants VTB, Gazprombank, and Vnesheconombank -the state development bank known as VEB– for 'undermining' UN sanctions by 'aiding Assad'.

"The Syrians could not conduct this war without Russian financing," Richard Blumenthal, a Democrat who represents the state of Connecticut, said at a US policy meeting on Iran and Syria at the Bipartisan Policy Center in Washington DC.

"We can freeze their assets. We can stop them from doing business in the United States, prevent their employees from traveling here and, in effect, impose very heavy financial pain on the Russians," Blumenthal said.

The letter accuses VTB of holding President Assad's personal accounts, VEB for facilitating Syrian payments for S-300 missile systems, and Russia's third largest lender Gazprombank for making payments on crude oil. The senators believe these institutions should be 'barred from the US financial system'.

Blumenthal's call to 'swiftly designate' Russia's big banks is based on 'numerous reports' one which Reuters published on August 29. The Reuters report cited a source in the Russian defense industry that said Assad had started payments on a $1 billion contract for S-300 anti-missile defense systems as well as a $500 million order for 36 Yak-130 fighter planes. The source said the first down payment of 20 percent was already complete.

Syria's central bank held foreign currency accounts with the three banks, Reuters' reported, citing a local Syrian newspaper article dated 2011.

'Completely unfounded'
VTB issued a statement in response to the senators' allegations, stating their bank has no business with President Assad or Syrian leadership.

"We consider these allegations to be a deliberate attempt to mislead the American people. These irresponsible insinuations are clearly intended to ratchet up tensions around Syria's economic and financial situation," the statement said.
VTB president Andrey Kostin has repeatedly warned against the economic havoc the Syria conflict could wreak on the Russian, and global economy, with a spike in oil prices.

The VTB Group operates in more than 20 countries across the former Soviet Union, Europe, Asia, and Africa, and in the US. State-owned VTB is Russia's second largest bank, and as of 30 June 2013 reported assets of roughly $258.9 billion.
Gazprombank, Russia's third largest bank, has offices across the globe from China, India, and Europe, and holds $99.7 billion in assets. 

VEB chairman Vladimir Dmitriyev said he had no knowledge of direct links to Syria. With assets of roughly $80.2 billion as of December 30, 2012, VEB is Russia's fourth largest bank.  The bank will need nearly $30 billion to recapitalize within the next seven years to save it from debt it acauired on bad loans.
"Historically, VEB acts on behalf of the government in terms of servicing the foreign debt of Russia, including settlements with Syria. Our bank does not have any other business with the Central Bank of Syria, its government, or government-controlled organizations. All the activities carried out by VEB are strictly in accordance with the sanctions adopted by the EU and the UN on the Syrian Republic," VEB's press service told RIA Novosti.

Reuter's defense industry source claimed Syrian money is being funneled through smaller, second-tier Russian banks, possibly located outside of Moscow.

The United States and European Union, and the UN have imposed sanctions on Syria's financial system, but reports have surfaced accusing Russian banks in helping circumvent sanctions by holding Syrian funds legally in the West.

The weapon trail

The accusation came just days after US Secretary of State John Kerry and his Russian counterpart, Sergey Lavrov, brokered a deal to work collectively with the UN to deplete Assad's chemical weapons stockpile, a plan Assad himself has also signed off on.

President Putin, who has largely orchestrated the Syrian chemical weapon solution, said his country hasn't made any S-300 deliveries to Syria.

At June's G8 Summit in Northern Ireland, Putin said Russia "arms under legal contracts to legitimate governments."

In the past two weeks the US has reportedly begun delivering arms to anti-Assad militants, which they expect the CIA to monitor.

Reuters' report focuses on the weapons trail between Russia and Syria, and Blumenthal's asset freeze request accuses VEB of facilitating arms deals to Syria, as well as Rosoboronexport, Russia's state arms dealer. The civil war between Assad and rebels broke out in 2011, before which Russia provided 50 percent of Syria's armaments, according to Reuters.

Oil, not arms
While Russia is arming Syria, it's not a staple of their economy. The arms business is peanuts compared to oil, which the country depends on for nearly half of their budget revenue.

Russian exports to Syria in 2011 largely consisted of weapons, and totaled $1.93 billion, according to Daniel Treisman, a Political Science professor at the University of California Los Angeles. CAST, a Moscow-based think tank, put the number higher at $6 billion. The IMF estimates Russia's 2011 GDP at roughly $2 trillion, thereby placing Russia's overall economic activity in Syria's weapons trade in 2011 somewhere between 0.001 and 0.006, whereas oil accounts for over 50 percent.

War in Syria would superficially spike oil prices and bring severe volatility to the Russian market, which a few billion in weapons sales would not come close to offsetting.

If Russia was really making big bucks as a weapons supplier to Syria, they would have supported, even welcomed Obama's strikes. But Russia wants stability in the region.

"Oil prices may rocket, which could bring Russia some short-term profit, but it would certainly be bad from the perspective of global growth," VTB head Andrey Kostin told RIA Novosti in early September.

You can share this story on social media: