Putin and Obama agree to push both sides in Syrian conflict to Geneva talks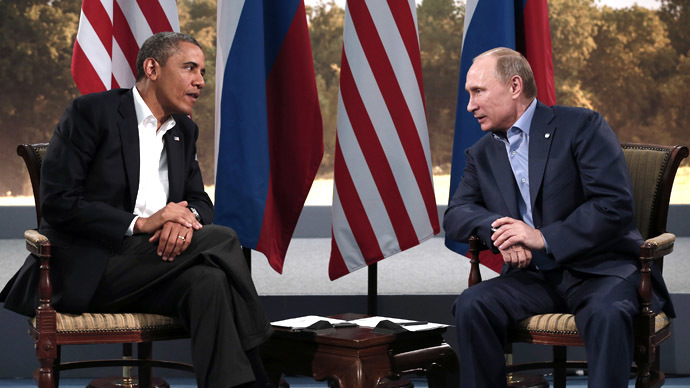 "We have agreed to push the sides of the Syrian conflict to come to the negotiating table at the international Geneva conference," Putin said.

"On some points, we still have a different stance, but we are united by an aspiration to prevent violence, to put an end to the growing number of victims, to solve the problem by peaceful means, including through negotiations at the international conference at Geneva," the Russian President added. 
President Obama conceded that he has a "different perspective" on Syria than his Russian counterpart, but confirmed that both countries have a shared interest in stopping the violence and "securing chemical weapons" in Syria. 
"We do have differing perspectives on the problem but we share an interest in reducing the violence, securing chemical weapons and ensuring that they're neither used nor are they subject to proliferation," Obama said. "We want to try to resolve the issue through political means if possible."
Now, the diplomatic fate of Syria rests on the agreement last month between Secretary of State John Kerry and Foreign Minister Sergey Lavrov to re-launch new set of negotiations aimed at bringing all parties of the conflict to the negotiations table. The Geneva 2 conference is designed to be a follow-up to last year's international meeting in Geneva that drafted a peace roadmap for Syria.

As the death toll rises to over 90,000 people, both Washington and Moscow are adamant that diplomacy offers the best solution. The list of participants in the planned conference will most likely include Syria's neighbors such as Iran and Saudi Arabia.

Originally the conference was planned for mid-June. So far, no official date has been set.

In the meantime President Obama is set to announce a further $300 million in new humanitarian aid to Syria, which will bring the total of US aid during the two-year civil war there to over $800 million. A little less than half of the new aid package will go to Syria itself, with the rest being sent to neighboring countries harboring Syrian refugees, the White House said on Monday. 
The majority of US citizens however are opposed to providing arms and military supplies to Syrian opposition forces, according to a poll released Monday by the Pew Research Center. Of those Americans polled, 70 per cent said they are not in favor of "sending arms to anti-government groups in Syria," while the number of those who favor providing military support dropped to 20 per cent, down from 29 per cent in March of last year.

Last week the Obama administration declared that Assad's government had crossed a red line, claiming new classified evidence of chemical weapons use by government forces. As a result, American officials went on the record supporting the idea of military aid to the Syrian insurgency. Washington was also reviewing the possibility of setting up a no-fly zone in Syria that would extend 40km into its territory and would be, officials told Reuters, used as a safe haven for refugees and a platform to train rebels. Moscow spoke out against the US plan to aid the rebels, saying Kremlin officials were "unconvinced" by the US claim of evidence. 
In addition to the discussion of Syria, during their nearly two-hour-long talks the presidents also touched on a number of sensitive issues including Iran, nuclear security and the prevention of nuclear arms proliferation, as well as cyber security and cooperation in fighting terrorism.
"We spoke in detail about strategic security between the two countries and the world in general. I think that we have opportunities to move forward in the most sensitive areas," Putin said.

You can share this story on social media: