PM: Only politics is holding back WTO accession
Published time: 12 Oct, 2011 10:11
Edited time: 22 Nov, 2011 16:59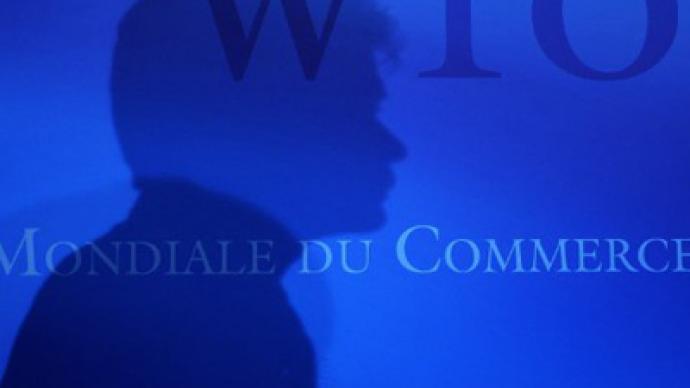 Russian Prime Minister, Vladimir Putin, says the country is looking to accede to the WTO by the end of this year but says political questions remain to be addressed, with analysts saying the short term impact of accession could be limited.
Prime Minister Putin, talking to Chinese media outlets, said that all necessary economic arrangements for Russia to accede to the global trade body had been completed, and that he hoped it would happen in the the weeks left of this year, adding there remained political questions.
"I hope that we can complete this process this year. We have done all we could for this to happen."
Clemens Grafe, chief economist at Goldman Sachs, believes political will is there and that Russia will soon join.
"Certainly, I think, Russia will join WTO this year, as the main economic barriers have been removed since the beginning of this year already. I think, in case with Russia, we have the most buoyant discussion about WTO accession than any other country has had. And, I think, what basically happened after the global financial crisis started in 2008 is that people on both sides started to realize that they needed to speed up the process, as the risk of protectionism was coming in."
Vladimir Tikhomirov, chief economist at Otkrytie FC, was less optimistic, saying that political negotiations with Georgia could delay accession, and also noting the economic impact of WTO accession would be felt over the longer term.
"In fact, I have doubts Russia will manage to join WTO this year, as some political issues remain unsolved. So far there's no consent from Georgia, which asks for a customs union with Ossetia and Abkhazia. If the term is agreed on, it would mean Russia is ok with Geogia receiving sovereignty over the territories, which is politically unacceptable for Russia. And if Russia joins WTO without Georgian consent, that'll become a precedent. So, the main problem is in politics, as almost all economic issues were settled. Moreover, Russia will have a transitory period of about 3-5 years, depending on the industry, so there won't an instant economic effect. "
The Russian Prime Minister highlighted the benefits of accession, including greater global confidence in Russia's legal process. Goldman Sachs Grafe noted that Russia, with a preponderance of raw material exports dominating its international trade, would not see the impact that other major emerging nations had seen from WTO accession, but agreed the move would boost Russia's investor attractiveness.
"Russia is very much different from other countries. China, for instance, benefits much more than Russia, especially in terms of increasing exports of low value added goods, and that's definitely not Russia's strategy advantage. And the main advantage we basically see for Russia is foreign direct investment,which typically picks up quite strongly after a WTO accession and has to do with better legal protection for foreign direct investors. And the other thing for Russia, I think, is higher competitiveness of Russia's product market, which is now quite low. And it's much more difficult to increase the competitiveness with foreign producers not having access to Russian market."
Otkritie's Tikhomirov warned that the long term impact for some sectors of the economy could be negative.
"Basically, the economic effect would be minor and long term there will be even more negative ones, I suspect. Currently I would expect just Russia's metallurgy sector to benefit from WTO accession.Many countries impose additional fees on metallurgy exports, that will be lifted after Russia becomes a member of WTO. And WTO agreements don't regulate trading in products that comprise the majority of export from Russia – oil, gas, ore, etc. And after the transition period is over we'll need to significantly reduce fees for consumer goods imports, cars, more foreign producers will come to the domestic market, and I'm not sure Russian producers will be able to compete with them efficiently."