Biden "persuades" Saakashvili to lift barriers on Russia's way to WTO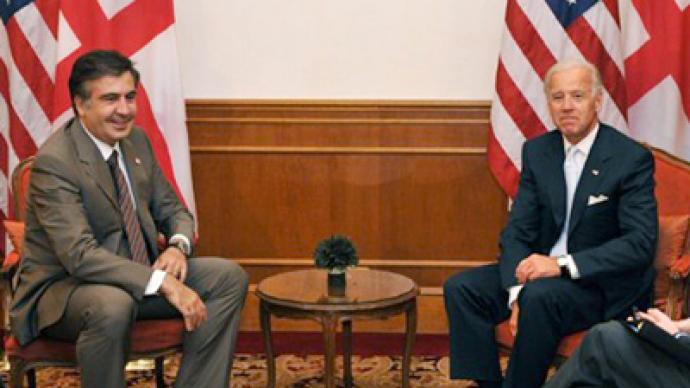 The Georgian opposition says Tbilisi has agreed on Russia's membership in the World Trade Organization after pressure from US Vice President Joe Biden.
Tbilisi will withdraw all the previous conditions it had set for Russia's entry into the WTO, the opposition Free Georgia party has said. According to its leader Kakha Kukava, the decision was the result of a recent meeting between the Georgian President Mikhail Saakashvili and US Vice President Joseph Biden. Saakashvili and Biden discussed in Rome on June 1 security and economic issues, including Georgia's objections to Russia's admission to the WTO. According to the White House, Biden voiced support for Swiss-mediated talks between Moscow and Tbilisi on Russia's membership to the economic organization.The talks in Switzerland had been postponed, which prompted some analysts to speak about possible behind-the-scenes discussions. Earlier, Biden said that Washington was not going to exert any pressure on Tbilisi to persuade it to lift its objections against Russia's participation in the WTO.Tbilisi is insisting that its representatives should be given access to customs at parts of the border of Abkhazia and South Ossetia with Russia. Earlier, it was a section of the Russian-Georgian border. Following the Georgian aggression against South Ossetia in August 2008, Russia recognized it and another breakaway republic, Abkhazia, as independent states and now guarantees security on their borders. Moscow agreeing to Georgia's conditions would be equal to withdrawing its recognition of these states, analysts believe. Moscow made it clear it relies on Washington's assistance on this issue. Biden's statement that Russia should decide the problem itself could have been prompted by Washington's desire not to position Georgia as a country "controlled by the US," Nezavisimaya Gazeta daily suggested.However, this scenario was reportedly exposed by the Georgian opposition. It took an opportunity to demonstrate again that for the county's current leadership relations with the US are "more important than national interests," the paper said.  The Georgian government has always said, however, it would not object against Russia's admission to the WTO if Moscow observes the organization's rules. But the tough position on the issue of access to the breakaway republics' borders surprised many independent experts. They argue that after Moscow's entry into the WTO, Tbilisi will have access to the Russian market for its goods – according to these same rules.This move could help Georgia's economy recover after it deteriorated partly because of Russia's embargo on its wines, mineral water and agricultural production. However, some politicians in Georgia are afraid that Russia will not lift the embargo because it was explained by supplies of counterfeit and low-quality production. Even after its possible admission, Russia may maintain a ban on some goods from Georgia.
You can share this story on social media: