Market Buzz: US data buoys markets
Published time: 26 Jun, 2013 07:12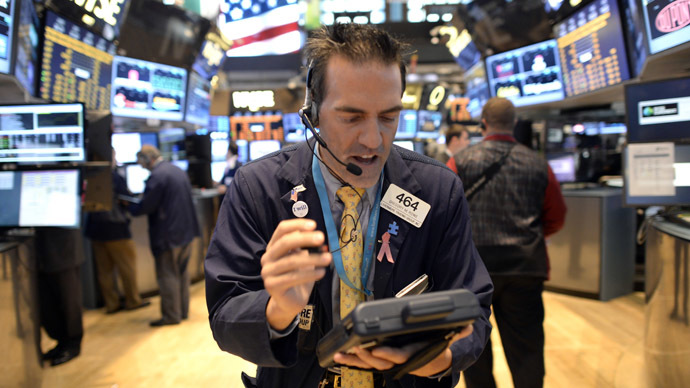 Mixed sentiment on global floors, uncertainty in the Asia-Pacific region over the Chinese credit crunch and falling oil prices looked likely to drag Russian stocks down on Wednesday's opening. However the floors started off the day with slight gains.
Tuesday's trading session took Russian indicators higher with the MICEX having added 0.57 percent to 1297.59, and the RTS finishing up 0.9 percent at 1244.16.
Russian floors are also likely to react to Tuesday's good news from the US in Wednesday's trade. Tuesday's US data showed strong gains in business spending plans. Also US home prices posted record gains, indicating that recovery may be on track in the key sector of economy.
Europe's main stock markets have rebounded on Tuesday. London's FTSE 100 index of leading shares advanced 1.21 percent to close at 6,101.91 points, Frankfurt's DAX 30 index climbed 1.55 percent to 7,811.30 points, while in Paris the CAC 40 gained 1.51 per cent to 3,649.82 points.
The data took US stocks up, with the Dow Jones Industrial Average adding 0.69 percent to 14,760.31.The S&P 500 added 0.95 percent closing at 1,588.03, while the NASDAQ rose 0.82 percent to 3,347.89.
Asian stocks were mixed on Wednesday as investors in the region's key markets Japan and Mainland China continued to worry about a liquidity crisis spurring in the world's second-largest economy, despite reassurance from China's central bank.
Moody's ratings agency said a prolonged credit crunch endangers Chinese companies, "especially those in the private sector with weak credit quality, because it heightens the risk that banks will scale back lending to those companies."
The Shanghai Composite Index fell 1.2 percent to 1,937.17. Japan's Nikkei 225 fell 0.9 percent to 12,904.01. In Hong Kong, the Hang Seng gained 0.8 percent to 20,022.30. South Korea's Kospi dropped 0.1 percent to 1,778.26. Australia's S&P/ASX 200 gained 1.3 percent to 4,714.40.
Oil is currently trading lower with Brent losing 0.5 percent to $100.70, and WTI down 0.9 percent to $94.40.