Market Buzz: Calm day after a roller coaster week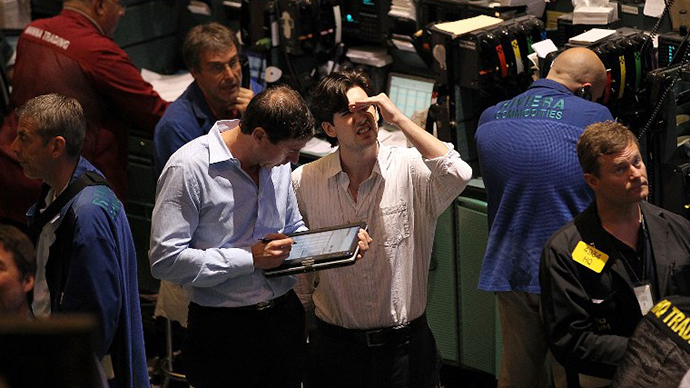 With a lack of drivers and falling oil prices Russian stocks are likely to start off the week lower.
Russian exchanges ended Friday's session with minor gains, in an attempt to rebound after a two-day fall. The MICEX added 0.14 percent to close at 1298.89 points, while the RTS index advanced 0.19 percent to 1245.72 points.

On Friday Europe's stock markets extended losses into a fourth straight day with investors' sentiment driven by the prospect of scaling back the quantitative easing program in the US and political uncertainty in Greece.

The Stoxx Europe 600 index dropped 1.2 percent to 280.40, ending the week at the lowest level in 2013.

The UK's FTSE 100 index slid 0.7 percent to 6,116.17, with a weekly drop totaling 3.1 percent. Germany's DAX 30 index fell 1.8 percent to 7,789.24 closing 4.2 percent lower on the week. France's CAC 40 index shed 1.1 percent to 3,658.04 and ended the week with a 3.9 percent loss.

On Wall Street the US stocks ended Friday mostly higher. The Dow and S&P 500 managed to put an end to their two-day long series of heavy losses. Investors however remained broadly concerned with the planned changes to the Federal Reserve's monetary policy later this year.

Since Wednesday's statement of the Federal Reserve Chairman Ben Bernanke crowning the FOMC's two-day policy meeting, markets have been very unstable. Bernanke said the Fed plans to "moderate the monthly pace of purchases later this year" as the US economy is still vulnerable, but shows signs of steady improvement.

Many experts agree that the most likely time to start pulling out of the bond purchases is September.

The Dow Jones industrial average added 0.28 percent, to end the session at 14,799.40. The S&P 500 added 0.27 percent, to finish at 1,592.43. The tech-rich NASDAQ Composite lost 0.22 percent, to close at 2,257.25.

In the week ahead, investors eyes will be on US data on durable goods orders, jobless claims and consumer confidence for signs that the economic recovery is on track.

Asian stocks fell on Monday on a disappointing move from China, which let the Chinese equivalent of Libor – the Shibor, the Shanghai Interbank Offered Rate soar in a bid to curb a booming underground lending industry.

In Hong Kong the Hang Seng fell 1.4 percent to 19,978.90 dropping for a fifth straight session close to nine-month lows. The Shanghai Composite plunged 3 percent to 2,010.77.

Japan's Nikkei 225 index went down 0.3 percent to 13,194.10. Australia's S&P/ASX 200 slid 1.3 percent at 4,678.90. Benchmarks in Singapore, Indonesia and the Philippines also fell. Taiwan rose.

Oil prices are on course to extend their falls. Brent crude is currently trading at $100.2 down 0.6 percent, while WTI is off 0.5 percent at $93.2.

You can share this story on social media: