Market Buzz: Trade cooling after Thursday sell off
Published time: 21 Jun, 2013 07:34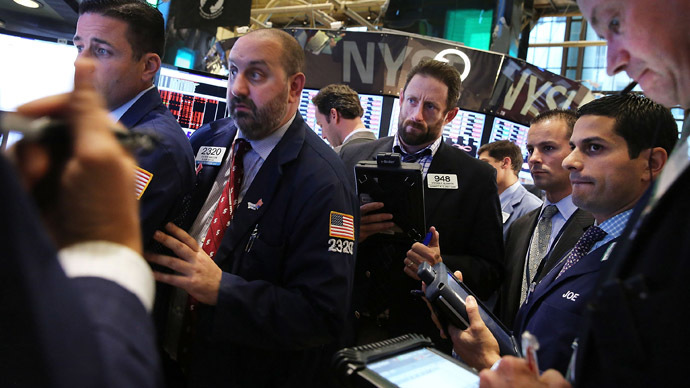 Global markets have tumbled after US Federal Reserve Chair Ben Bernanke said the monetary regulator would begin drawing down its $85 billion bond-buying program later this year.
Friday promises to be a calm day on the global floors, as there will be little news that could spark movement. The day previous, traders rushed into major selloffs on the Fed's announcement.

Russian stocks closed sharply lower Thursday, with the MICEX down 2.01 percent to 1297.01, while a strengthening US dollar caused the RTS to slump 3.75 percent to 1243.32.

Massive selloffs were also seen in Europe, where the benchmark Stoxx 600 index fell 3 percent to 283.68, and the UK's FTSE 100 closed down nearly 3 percent – its biggest fall percentage-wise since September 2011. Germany's DAX ended 3.3 percent down at 7928.48, France's CAC 40 closed 3.7 percent lower at 3698.93, Spain's Ibex closed down 2.9 percent and Italy's FTSE MIB slid 3.1 percent.

US stocks also plummeted Thursday following the Fed's Wednesday's announcement that it intends to begin scaling back its $85-billion-a-month quantitative easing stimulus program. The Dow fell 353.95 points to 14758.24, a 2.34-percent drop and the index's worst fall so far this year. The S&P 500 posted its biggest daily decline since November 2011, sliding 2.5 percent to 1,588.19, and the Nasdaq fell 2.28 percent to 3,364.63.

China's HSBS has released its preliminary reading of Chinese manufacturing PMI, showing that the world's second-biggest economy is weakening. June Flash HSBC PMI slid to a nine-month low: 48.3, below the final reading of 49.2 in May. Reports that the International Monetary Fund may halt its payments to Greece also added to the negative sentiments.

Asian stocks continued to tumble Friday: China's Shanghai Composite slipped 0.90 percent to 2,065.28, Hong Kong's Hang Seng fell 1.14 percent to 20,150.50 and Japan's Nikkei fell 1.26 percent to 12,850.94. Benchmarks in Singapore, Taiwan and South Korea also fell.

Oil and gold prices also fell significantly on Thursday, with gold dipping below $1,300 per troy ounce for the first time since September 2010.

Oil prices also fell due to the raft of bad news, seeing its biggest one-day price drop since November 2012. The WTI benchmark for July slid 2.9 percent to finish at $95.40 in New York. Brent crude was down $3.97, or 3.7 percent, to end Thursday at $102.94 a barrel in London.

Oil is climbing slightly on Friday, with Brent adding 0.7 percent to trade at $102.80 and the WTI up 0.55 percent to $95.60.