Muscovites getting out to anywhere cooler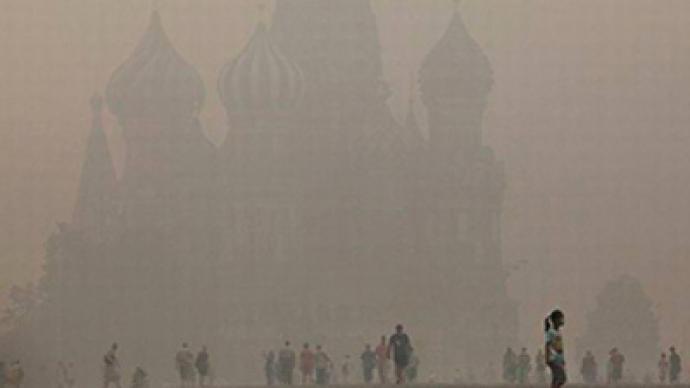 With Russia's capital under siege from heat Muscovites have booked out almost everything to get away for a short break – with cooler domestic destinations enjoying a boom.
Sergei Agafonov, the Director of the Magazin Goryashikh Putevok travel agency says that with temperatures expected to remain hot, and with little rain to put out the choking smoke enveloping the city almost every short break that can be booked for the coming week, is booked.
"We have ran out of available tours for at least one week or more. The main driver of immediate outflow is seen to be not only the exhausting heat but also the smoke covering the city."
Marina Makarkova, PR director, TEZ Tour, said that the recent demand has jumped over traditional seasonal levels with increased sales to West European and Mediterranean destination and even longer distance options such as the Dominican republic and Cuba.
"The demand for vacation tours is at a very high level since March, and has grown by 30-50%, moreover, the period of stay also increased and tours are now booked for longer periods than ever before."
Makarkova adds that interest in last minute tours to popular resorts of Greece, Spain and Italy has jumped as well
"This summer we have experienced a boom in sales of last minute tours because a lot of Russians obtained a 6 months Schengen visa and were ready to leave on vacations in two days"
According to of Anton Martyanov, Deputy Head of the sales department at TUI+VKO travel group the growth of demand has almost doubled according to the last year figures, with visa-free countries among the most popular destinations.
"We have sold out all tours at the beginning of June to the most popular and affordable countries such as Croatia, Montenegro, Greece, and Turkey which was due to advantages of a visa-free regime and proximity of the destination. Our booking agencies are still controlling and calling for any recent updates and available tickets on these directions for weekend tours"
Maya Uskova, sales manager, Tui group said that they can not evaluate the amount of tourist who book tours with an idea to leave Russia because of weather forecast and smoke. She says that anyone looking to book at the last minute through them to get away from the heat and smoke would be disappointed.
"It's impossible to find out whether tourists want to leave because of the heat and smoke at the moment because all popular nearest European directions were sold out at the beginning of summer and now we don't even face any rejections on tours and returns of paid tours."
Natalia Zakharova, Head of the sales department at ABC-Travel, agreed that demand for European destinations in particular has been very strong.
"This year demand is much higher than of the previous year and tourists prefer to book a month or more prior to a flight date. Turkey, Egypt, Croatia and Montenegro are the most popular directions this summer ever. This is due to more affordable prices and visa conditions."
Zakharova adds that the more logical response to the natural disaster unfolding in Moscow is more likely to be a jump in domestic Russian destinations.
"Those who want to escape from Moscow's weather disaster for a week can not afford to travel long distance for short vacations. I assume that these tourists are switch to traveling inside Russia"
Oksana Bulah, Commercial Director at Dolphin travel agency says that long before the onset of fatiguing heat, almost all the tours to Moscow region were snapped up for two months in advance, and adds that the onset of Moscow's heat spell is seeing Northern Russia come into its own.
"The growth in demand was marked at 25% in this area over the past week. People are showing increased interest in distant regions to escape from fire smoke and heat. The demand for Karelia and the Kola Peninsula tours is simply unprecedented. The tourists are ready to go here even by car – such is the demand for Karelia"
Podtyazhkina Maria, Executive Director at Russia Discovery travel agency that this summer a lot of new clients have booked vacation tours in East and north of Russia.
"I can say that the tendency for last minute booking has grown particularly because of the current weather conditions in the central regions. Those who didn't manage to buy a tour to sea resorts of Europe came back with the idea to travel to Baikal, Altai and Karelia."
Podtyazhkina adds that the cost of Russian tours is almost of the same as Europe's due to high cost of the tickets.
"The total cost of the tour depends on ticket cost, accommodation, meals and of course optional excursion and other expenditures on transfer, however the rise of price on tours might be due to a high price on air and train tickets."

Sergei Agafonov, the Director of Magazin Goryashikh Putevok says that despite increased demand, prices weren't rising and reflected traditional season costs.

"We can not predict the future situation on travel market pricing, but since last year the supply has exceeded demand, and tour operators had to bring forward special offers to spur interest and demand. Nowadays the situation has changed with the growth of demand for summer tours. Moreover, we have already started to book winter tours to ski resorts and other far away countries."
You can share this story on social media: