Market Buzz: Gains on easing worries over China, US monetary policy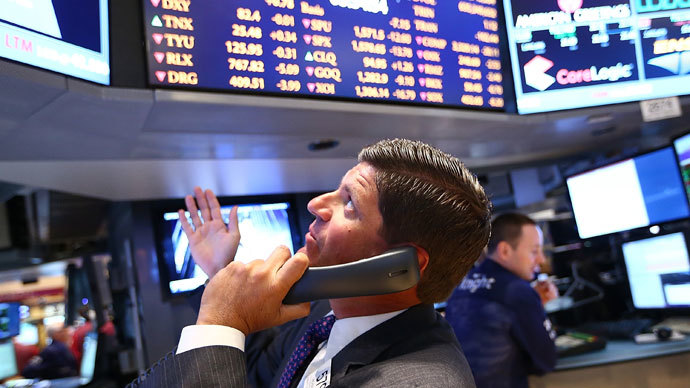 Russian floors have started Thursday trading session with gains on a moderately positive international outlook. Fears over a liquidity crisis in China have eased and investors hope that the US Fed will keep its monetary easing stimulus program for longer.
On Wednesday Russian stocks ended higher with the MICEX shifting up 1.76 percent to 1320.4 points and the RTS gaining 1.44 to close at 1261.13.
In Europe stock markets closed with strong gains for a second day. London's FTSE 100 advanced 1.04 percent to 6,165.48 points. Frankfurt's DAX 30 jumped 1.66 percent to end at 7,940.99 points, while in Paris the CAC 40 added 2.09 percent to close at 3,726.04 points.
Wednesday, however marked a sharp drop in commodities. Gold and silver both slumped Wednesday to nearly three-year lows. On the London Bullion Market, the price of gold dropped to $1,224.18 an ounce - the lowest point since August – losing as much as 4 percent. Later in the session, prices rose slightly to $1,233.60. Silver also slid by 5.4 percent.
On Thursday in the eurozone the EU leaders are to meet for the first day of a two-day economic summit. Germany will publish its unemployment update.
The UK will post data on the current account and revised data on first quarter economic growth.
Also Thursday, the US will be releasing its weekly government report on initial jobless claims along with data on personal income and expenditure. Later in the day private sector data on pending home sales will also be made public.
US stocks rose Wednesday, as a revised economic growth outlook eased concerns over the US monetary policy.
The Dow jumped 1 percent closing at 14,910.14. The S&P 500 climbed 1 percent to 1,603.26. The NASDAQ added 0.9 percent to 3,376.22.
Asian markets advanced Thursday hoping that the Federal Reserve will stick to its bond purchases for longer. Mainland Chinese shares rebounded after official data showing steady growth in industrial profits and on easing concerns over the crisis in the banking sector.
Hong Kong's Hang Seng advanced 1.5 percent while the Shanghai Composite climbed 0.98 percent as concerns over a banking liquidity crisis in China eased over the past days.
Japan's Nikkei 225 jumped 2 percent. The South Korean Kospi shifted up 2.8 percent, rebounding from this week's earlier losses. Australia's S&P/ASX 200 gained 1.3 percent, while New Zealand advanced 0.43 percent, and Singapore rose 1.21 percent.
Oil is currently slightly up, with Brent adding 0.6 percent trading at $102.20, while WTI is up 0.5 percent to $96.
You can share this story on social media: