Market Buzz: Escalating fears over Chinese liquidity crisis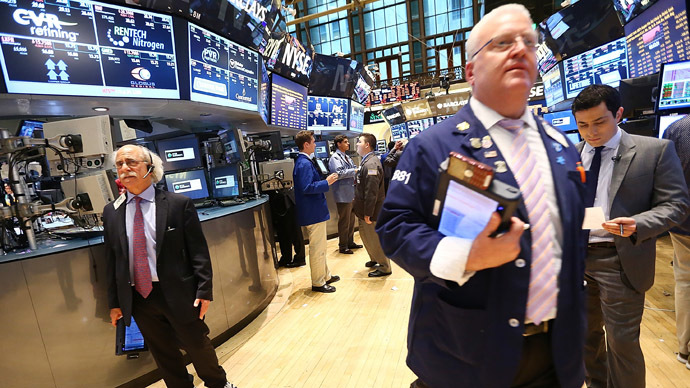 Russian stock market has opened on the positive territory on Tuesday, rebounding after Monday's drop.
Investors however expect stocks to fall later in the day, as oil prices are declining and the international outlook remains negative on China liquidity crisis and concerns over Fed's stimulus.

Russian stocks ended Monday with losses. The MICEX slipped 0.66 percent to the 1290.26 mark, while the RTS lost 1.02 percent to 1233.04. Equities of KAMAZ, Novatek, InterRAO, Rosneft and E.On Russia kept Russian market trade afloat with gains.

Major European stock markets also slumped Monday, reacting to worries over the Chinese liquidity crisis and the withdrawal of US Federal Reserve stimulus.

London's FTSE 100 index of leading shares slid 1.42 percent to 6,029.10, while Frankfurt's DAX 30 fell 1.24 percent to 7,692.45 points. In Paris the CAC 40 dropped 1.71 percent to 3,595.63 points.

Stocks in Spain and Italy also fell on rising Italian and Spanish state borrowing costs on the bond market.

US stocks ended Monday's roller coaster trade with steep declines. Benchmark stock indices demonstrated a steep fall after the opening bell.

The Dow Jones Industrial Average had been down as much as 250 points on Monday ending down 139.84 points, or 0.9 percent, at 14,659.56.

The S&P 500 finished down 19.34 points, or 1.2 percent, at 1,573.09, with all of its 10 major sectors in negative terrain. The NASDAQ closed down 36.49 points, or 1.1 percent at 3,320.76, following an intraday low of 3,294.95 and a session high of 3,344.66.

Tuesday's news from Europe will include the UK's industry data on mortgage approvals, reflecting the demand in the housing sector. Bank of England policymakers are to testify on inflation and the economic outlook before the parliamentary treasury committee, Investing.com reports.

Also on Tuesday Italy is to hold an auction of 10-year government bonds.

The US is to publish official data on durable goods orders and closely watched reports on consumer confidence and new home sales later in the day.

Asian stocks were struck by worries over problems in the Chinese banking system. Mainland Chinese stocks fell sharply for a second straight day on Tuesday. Losses hit markets in other Asian regions as well.

The Shanghai Composite lost 3.8 percent to 1,888.69 and Hong Kong's Hang Seng dropped 1.4 percent to 19,533.05. Japan's Nikkei 225 shed 1.6 percent to 12,848.96. South Korea's Kospi slid 1 percent to 1,780.81 and Australia's S&P/ASX 200 declined 0.5 percent to 4,645. Stocks in Taiwan and the Philippines also fell.

Brent oil is currently trading at $101.35, while WTI is up 0.17 percent, trading at $95.30.

You can share this story on social media: