Market Buzz: Investors inspired by US stats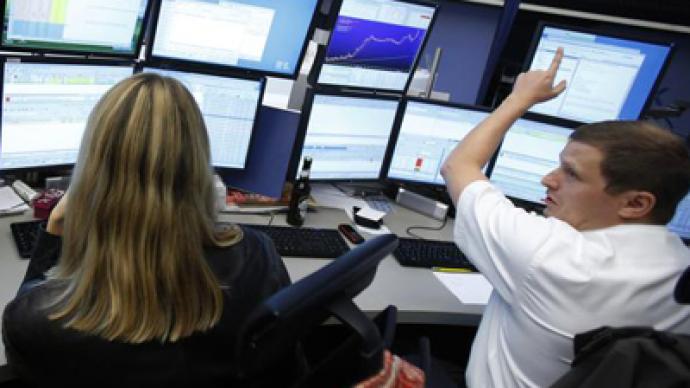 Russian stocks are expected to open higher on Monday, following a previous upward trend. Global stocks inched up on Friday, as investors were encouraged by solid data from the US.
"I assume that if US floors finish the [Friday] session on a positive note, Russian stocks are highly likely to start trading in the black on Monday, February 4," Ekaterina Kondrashova from Investcafe wrote in an email Friday, hours before trading closed on American floors.Both key Russian indices finished the Friday session in the black. The RTS was up 0.38% to 1,628.31, and the MICEX added 0.03% to close at 1,547.22.US stocks were more than optimistic on Friday, as investors saw better-than-predicted data from the American manufacturing sector reported by the Institute for Supply Management (ISM), as well as an upward revision to the previous two months' non-farm payrolls.The Dow Jones Industrial Average hit 14,009.8, its highest closing level since October 12, 2007. The S&P 500 rose 1%, also hitting its highest level since 2007 – about 4% away from its record high. The Nasdaq added 1.2%. The payroll revision by the US government showed that the economy added 335,000 more jobs in 2012 than originally reported."The revisions point to a fairly healthy 181,000 per month trend in 2012, which is more than strong enough over time to bring down the unemployment rate," CNN Money quoted Jim O'Sullivan, chief U.S. economist at High Frequency Economics, as saying.However, the US unemployment rate rose slightly in January to 7.9%, from 7.8% in December. Economists had expected it to edge lower. Positive US stats also helped equities build on earlier gains after purchasing. Managers' Indexes (PMIs) pointed to stabilization in the eurozone, as well as a mild recovery in China. European markets finished broadly higher on Friday, with shares in London leading the region. The FTSE 100 is up 1.12%, while France's CAC 40 is up 1.10% and Germany's DAX is up 0.74%. Asian markets are higher today as Japanese and Hong Kong stocks show gains. The Nikkei 225 is up 0.82% and the Hang Seng is up 0.52%. The Shanghai Composite is not trading today.
You can share this story on social media: