Market Buzz: Negative vibrations abroad drag down Russian stocks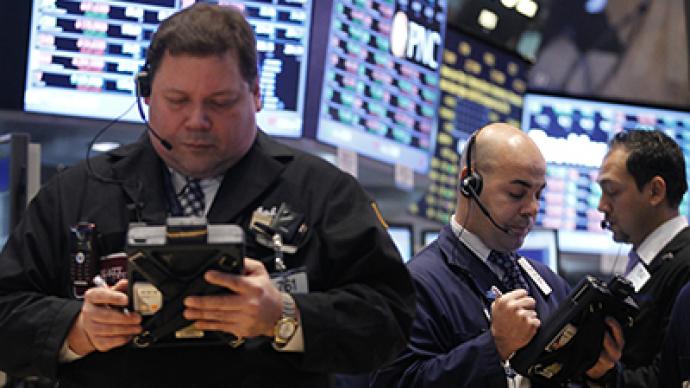 Russian markets closed in negative territory on Wednesday. The MICEX dropped by 0.41% while the RTS was off 0.31%.
The indices fell amid negative Q4 macroeconomic data coming from the US, which will most likely continue to weigh on Russian stocks today.The US economy shrank 0.1% in 4Q 2012, which marked the first contraction since the recession ended in 2009. The drop came mostly on the back of government spending cuts. However, the basic elements of domestic economy – housing, consumer spending and business investment – performed stronger. That's "the best-looking contraction in US GDP you'll ever see," as the Wall Street Journal quoted Research firm Capital Economics.North American markets also finished in the red after Wednesday's session. The S&P 500 slid by 0.39%, the Dow Jones fell by 0.32% and the NASDAQ dropped by 0.36%. Higher-than-expected corporate earnings posted by Boeing and Facebook failed to buoy domestic stocks.A number of corporate earnings reports are expected to be posted today, including those from MasterCard Inc, Colgate-Palmolive Co., Deutsche Bank AG and Siemens Ltd. A raft of macroeconomic data is also due to arrive later in the day: New registered unemployment cases, consumer spending and income in January, and PMI from Chicago.Asian stocks traded mostly lower, with Japanese, Hong Kong and Australian markets all falling from multi-year highs, as investors analyzed earnings reports and global economic data from the US and Japan. Japan's Nikkei Stock Average is lower by 0.69%, South Korea's Kospi traded down 0.27% and Australia's S&P/ASX 200 index lost 0.24%. In China, Hong Kong's Hang Seng Index declined 0.50% while the Shanghai Composite Index grew by 0.10%.European stocks saw broad-based losses on Wednesday due to poor US economic data, and investors remained cautious ahead of the conclusion of the Federal Reserve's first policy meeting of 2013. The Stoxx Europe 600 index slid by 0.6% after climbing to its highest closing level since February 2011 on Tuesday. In France, the CAC 40 was down 0.54%, while Germany's DAX was off 0.47% and London's FTSE 100 fell by 0.25%.Oil prices showed mixed dynamics, with Brent gaining 0.12% and WTI dropping by 0.02%.
You can share this story on social media: