Russia's 'Black Monday': 15 years on, ruble risks much reduced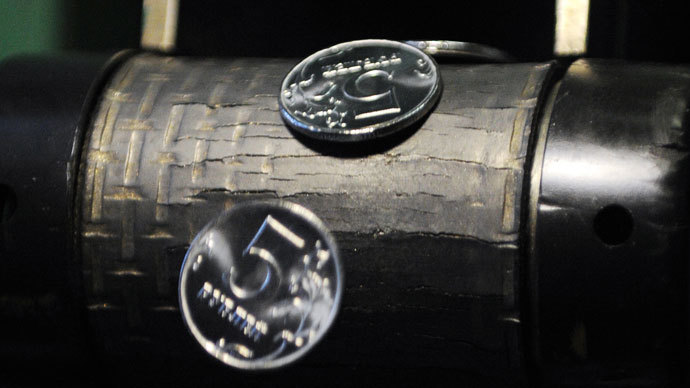 Fifteen years ago, the ruble suffered its worst-ever devaluation in what became known as "Black Monday." But now, while ordinary Russians still fear devaluation, experts say the country's finances are much better able to weather global economic shocks.
On August 17, 1998, the ruble plummeted against the dollar in the blink of an eye, after Russia's government said it couldn't meet its key debt obligations and would end massive currency interventions. In about six months, the Russian currency nosedived from six to 21 to the dollar. In the aftermath inflation skyrocketed and many enterprises and banks across the country collapsed, leaving Russians without their livelihood.
Some warn that today, the alarm bells are ringing in a similar way. Russia's currency has recently been losing steam, as economic growth is disappointing and the government still needs to eradicate a budget deficit. The euro is close to 44 rubles, while the dollar is fluctuating around the 33-ruble mark. Russia's Central Bank is again steadily announcing record high currency interventions to keep the ruble stable. In the meantime, the results of social research show that a majority of Russians fear that a new currency default could be on the cards sometime soon.
However, Moscow financial experts who experienced the 1998 crash are sure that this year the ruble won't repeat the "Black Monday" crash it suffered then.
Natalya Orlova, Alfa Bank's chief economist since 2001, joined the bank as a financial analyst six months before the August 1998 devaluation.
"The domestic state of Russia's economy is incomparable with 1998," Orlova told RT Business. "The level of state and private debts is much lower, and economic growth, though recently slowing, remains in place."
Another seasoned Russian analyst, Irishman Chris Weafer (currently senior partner at consultancy Macro Advisory) came to Moscow to work as Troika Dialog's chief strategist in the summer of 1998, just before the crash.
Though further devaluation is possible now, Weafer told RT Business that this time around it would be much smoother and on "a controlled steady basis rather than a sharp fall."
"Currently the ruble is weakening because traders expect the Central Bank to start lowering interest rates from September and, in addition, they expect to see the government add more stimulus measures to try and boost flagging economic growth," Weafer wrote in an e-mail. "Such actions always lead to a weaker currency. This is exactly what happened to the US dollar in 2009 when the US Federal Reserve Bank started to cut rates and add stimulus."
Oil, a backbone of Russia's economy, is much higher today that it was 15 years ago, Orlova pointed out. In 1997, the oil price stood at $25 to $28 a barrel, and on August 18, 1998 it plummeted to $7.80. Today, benchmark Brent crude is trading at above $110.
However, oil remains the "wild card," Weafer said. "If the price of oil trades up towards $115 or $120 per barrel, then this will provide better support for the ruble and prevent much further weakness. But without high oil, we can expect the rate cuts and deteriorating economy to start pulling the ruble lower in the autumn."
Increasing pressure on the currencies of emerging economies is a huge drag on the ruble, said Yaroslav Lissovolik, chief economist at Deutsche Bank.  "Investors seem to be shifting their bets to the developed world," he told RT. "The recent success stories in China and the US, as well as a turnaround in the Eurozone, have inspired investors that developed economies might be back on track."
Orlova said investors are now hastening to buy enough dollars before the US caps its monetary stimulus. "They are buying up greenbacks now, giving emerging economies their domestic currencies back," she said.
Experts predict that the ruble could end 2013 somewhere between 32 and 35 to the dollar.
Business RT: Anastasiya Kostomarova