Petrol in Russia set to rise despite falling oil
Published time: 12 Jun, 2012 08:09
Edited time: 12 Jun, 2012 12:09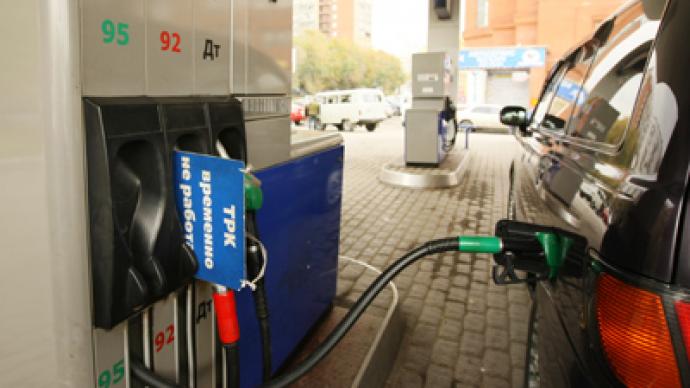 Cheaper oil isn't helping Russian drivers at all, as petrol is going up. This is mostly due to state policy of increasing excises, as well as oilers trying to win back losses from a price freeze before March's presidential election, experts say.
­Retail petrol prices in Russia have been going up for 9 weeks in succession, having added 1.4% since the start of the year, according to the country's Statistics Service. During this time, oil markets have seen prices slide. WTI has gone down to about $84/bbl from around $105/bbl in April, with Brent crude decreasing to $99/bbl from $120.5/bbl in the same period.

"In Russia there's no 100% correlation between the prices for oil and petrol, as it is different taxes that make up for more than 50% of the final gasoline price," Sergey Vakhromeev, oil and gas analyst at Metropol IFC, explained to Business RT.
"With the petrol excise being constantly raised from the start of the year, it's no surprise that petrol in Russia is going up", adds Vakhromeev. 
In July another increase of the petrol excise is set to come, with the cost of Euro-3 to increase to $0.184 per liter from the current $0.172.

The Russian state sets petrol excises that effectively have the biggest say in deciding the final petrol price in Russia, Vakhromeev explained.

Also, as part of the presidential election campaign Russian authorities gave instructions to put a lid on petrol prices, the Metropol expert told Business RT. This was just as wholesale prices were going up, creating losses for companies, Denis Borisov, Nomos –Bank analyst, reminded Vedomosti daily. The margin in the retail market was down to 11.7% as of the end of May from a February figure of 16.3%, according to data from Kortes – Russia's information center for oil markets. So, by raising petrol prices Russian companies are trying to compensate for the losses, Vakhromeev concluded.
"The number of cars in Russia is constantly growing, which means the demand for petrol is also rising," the Metropol expert continued his line of reasoning.
Overall, petrol prices in Russia could add about 10% this year. "The price rise should be above the annual inflation rate that is expected to be at around 6% this year. Russian companies would need not just to cover their costs that'll rise at the inflation rate at the minimum, but also to make profits," Vakhromeev explained.
In the meantime, on June 8 the leaders of Russia's oil industry held the first meeting of the newly created "oil club." This was initiated by Russia's oil major Rosneft with Igor Sechin as its head. The club members are set to meet on a regular basis to "discuss the state of affairs and hear the opinion of the head of Russia's largest oil company – Igor Sechin," according to Kommersant daily. Among the parties involved are Lukoil, Surgutneftegas, Bashneft, Gazprom Neft, Transneft and Itera.