Russian Energy Minister: Industry needs tax breaks and new technology
Published time: 10 Oct, 2012 09:24
Edited time: 10 Oct, 2012 13:24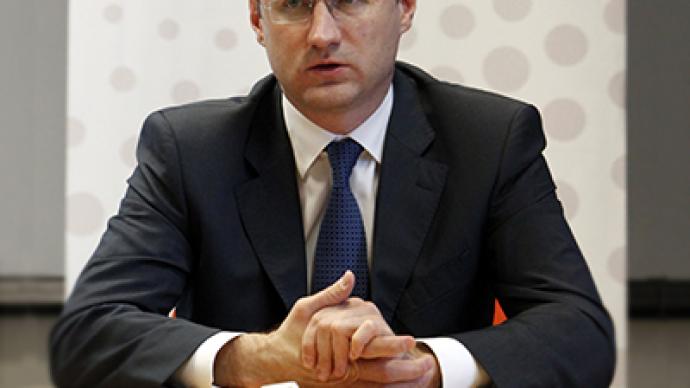 Russia will need around $500bln to develop its Arctic shelf by 2050, Energy Minister Aleksander Novak told RT.
He made the announcement at the Gastech conference in London where he presented the Russian development program to foreign investors.
Stimulus measures to develop new oilfields were one of the priorities for Russia´s energy sector, Novak said.
"Today we have some deposits that have become almost unprofitable under the existing tax regime. It's Western Siberia, Krasnoyarsk region, the north of our country," Novak explained to RT.
Developing the existing oilfields and providing for deeper extraction there is another focus, the Energy Minister added
"We cut export tax by 5% to increase the efficiency of oil extraction in the places where it has also become almost unprofitable."
Another development direction includes works on the fields with hard to extract deposits, where involvement of new technology becomes essential.
"And we need provide for the efficient extraction of hard-to-reach oil reserves on the shelves. This includes the Arctic shelf, the Caspian Sea shelf as well as the Black Sea shelf," Novak concluded.
Among other important initiatives put forward by the Minister at the conference was a way of switching to equal profitability of gas deliveries to Europe in 2017 – 2018. Russia would cut gas prices in foreign markets than lift them domestically, as it was previously planned.
Analysts, however, are skeptical about the idea, saying it won't happen naturally. It's definitely faster to reach equal profitability by cutting the prices in foreign markets, Artyom Avdeev from a financial company AForex told Kommersant. But Russia's Gazprom, the market monopolist, wouldn't reconcile lower revenues from Europe and will try to compensate for the losses by increasing prices domestically, the expert added.
Elena Yushkova from IFC Solid says gas prices in 2017 should be at $190 – $200 for a thousand cubic metres, while in Europe it'll be as high as $300 – $350. Alexey Rybakov from Trade Portal Investment Company agreed, saying the average gas price for Europe will stand at $315-345 in 2017.