Rouble hits two months high on 'colossal' foreign demand
Published time: 22 Nov, 2012 12:38
Edited time: 22 Nov, 2012 16:39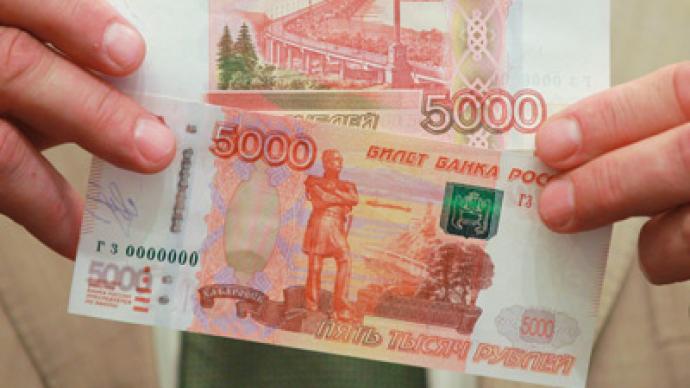 The Russian national currency has strengthened on a rallying stock market and the expected access of foreign investors to the Russian high-yielding domestic bond market.
­Over the past few days the price of the currency basket fell from 35.6 to about 35.1 roubles – the highest in the last two months.

The currency grew on higher oil prices, an overall positive situation on the Russian stock market, and the end-of the year tax period that sees exporters convert dollars and Euros to pay taxes.
The main driver of the rouble rally is the "colossal" demand from foreign investors, traders say.

Investors are stocking up on the Russian currency in anticipation of the liberalization of the debt market in Russia. Demand for bonds on Wednesday was oversubscribed by six times.
"We see colossal inflows from international brokers, hedge funds into the market of Russia's treasury bonds, OFZs. The daily entry of foreign investors in OFZs can exceed a billion dollars," Evgeny Kochemazov, Head of Fixed Income at Alfa-Capital told RT.
He explains how investors are preparing to play the instrument once foreign investors get direct access to the Russian bond market.
"The international settlement services Euroclear and Clearstream will begin their work on the Russian OFZ (Russia's treasury bonds) market next year. Now Russia has Eurobonds maturing in 2018 with a yield of 6%. But OFZ, which are not a part of Euroclear and Clearstream systems yet, are traded at about 6.8% per annum. This premium of 0.8 % is the award that investors would get buying local instruments. So playing this difference in yields of OFZ and Eurobonds – is a basic investment idea that is behind such a strong movement of the market," Kochemazov said. 
"Over the last month, the Russian OFZ – is one of the best risk assets in the world, it was an island of stability during the correction of equity markets," Kochemazov added.