Russian bonds riding a wave of success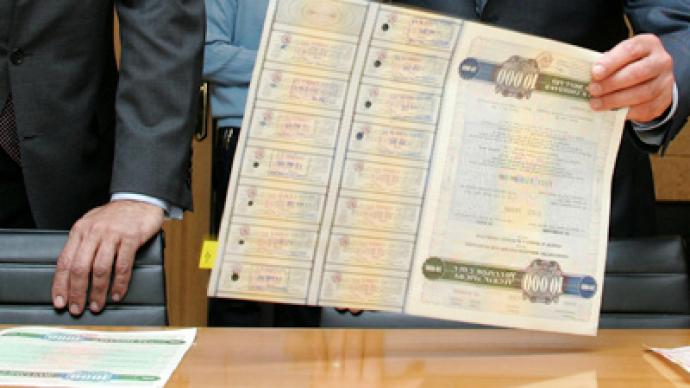 Russian companies have become attractive borrowers as they placed a record 317 billion roubles ($10.8 billion) in Eurobonds in the first quarter of 2011, exceeding pre-crisis level.
Vedomosti daily reports Russian companies' Eurobonds are usually bought by domestic investors, while foreign investors are interested mainly in state debt paper.After a successful placement of $7 billion Russian Eurobonds, which were over-subscribed more than three fold, Russian companies have seen their debt in demand. They attracted $2 billion in the last week of March.But the successful placement of state bond is not the only reason, experts say. "The bond market is growing due to the difficult situation in the market," says Anton Safonov from Investcafe. "As stocks continue to decline, it's difficult for companies to attract capital through an IPO. A bond issue is the easiest way for them to attract money."For example, Russian Railways placed $1 billion in dollar Eurobonds with 5.7% yield and 25 billion roubles in rouble papers last week. While Russky Standard Bank placed $130 million in debt papers.Also Russia's second largest bank VTB plans to start a road show in New York on Tuesday placing $2.5 billion Eurobonds.Experts expect the success of Russian Eurobonds will attract attention to bonds of major Russian companies."In the future the demand for bonds would rise and major companies will be gaining popularity," says Anton Safonov. "The trend is likely to remain until the situation in the market stabilizes; then the growth of the bond market will slowdown".
You can share this story on social media: