Rosneft ramped up oil production by 24%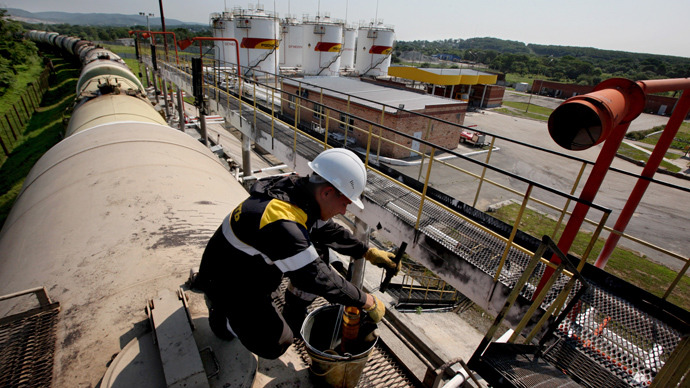 Rosneft's acquisition of TNK-BP has paid off for Russia's largest state owned oil company, which boosted oil production to 50.983 million tons from January to April 2013, up from 41.1 million tons in 2012.
The results reflect Rosneft's $55 billion acquisition of TNK-BP, which added about 9 million tons of oil to the company's production output.
According to Rosneft president Igor Sechin, Rosneft will produce 210-215 million tons of oil in 2013. Gas extraction will reach 50 billion cubic meters, refined oil will reach 95 million tons, which will yield a revenue of $160 billion. In 2012, Rosneft increased oil production by 2.7 percent compared to the previous year.
Rosneft's Krasnoyarsk oil field led the production output boost, producing 6.907 million tons of oil, up 24.8 percent from 2012.
Yuganskneftegaz, a fully-integrated subsidiary of Rosneft, upped production to 21.863 million tons between January and April, the same time period it cut production costs by 1 percent.
In total, Rosneft subsidiaries produced 44.363 tons of oil during the first four months of 2013, which is up 21.7% from the same period last year.
Gregory Birge, co-director of Investkafe's analytical department, and Rosneft management peg the benefit of the TNK-BP acquisition at an estimated $15 billion, which offsets Rosneft's poor Q1 profit earnings and increased debt load.
"The acquisition of TNK-BP is very positive for the shareholders of Rosneft," Birge told Investkafe.ru
Mixed Q1 results
On April 30th, the night before the markets closed for Russia's nine day spring holidays Rosneft quietly released their Q1 earnings.
Profit results were poor having declined 14 percent after taxes and expenses. On the flip side, output and production surged 82 percent, and crude production rose 73 percent to 4.17 barrels a day, the company announced.
Sales climbed 7 percent to reach 812 billion roubles ($26 billion), but the net debt ballooned to 1.78 trillion roubles ($56.8 billion)
The Risky Rouble

Russia's biggest crude producers are upping their spending efforts to increase production and increase revenue to new highs.
As the price of Brent declines and the dollar strengthens, the rouble has dropped. The currency started its negative trend at the beginning of the Russian holidays, peaked on May 10, and has dropped 0.26% against the dollar to 31.31 on New York's exchange floor Monday. 
However, the plan could backfire with a serious depreciation of the Russian rouble, since most of capital financing is executed in dollars, while sales are tendered in roubles. 
Despite Russia's slowing economy, inflation rose 7.2 percent in May, up 0.2 percent from April. The inflation is linked to seasonably high food prices
Accelerating inflation in April to 7.2 percent year on year launched a review by investors in favor of maintaining the current rates of the Central Bank in May, whereas before there was more support to mitigate interest rates.