Red light for Greek bailout spurs traffic on the markets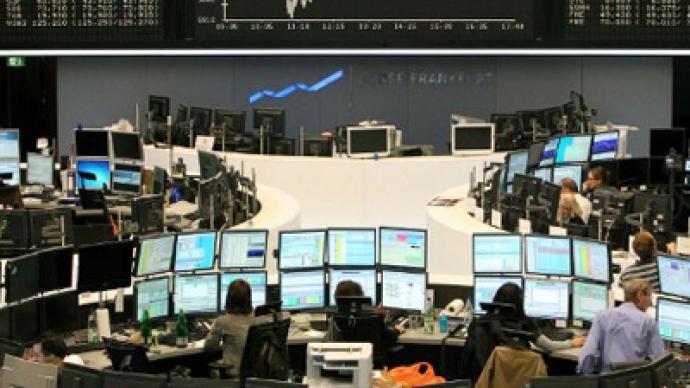 European leaders have threatened to withhold aid to Greece if it votes against the 130-billion-euro EU rescue plan in December's referendum. The showdown came as a two-day G20 summit opens in French Cannes.
­German Chancellor Angela Merkel said "a Greek vote would decide whether the country stays in the eurozone," with French President Nicolas Sarkozy stressing Athens "would not get a cent" of critical bailout funds if Greeks reject the plan.
Greek Prime Minister George Papandreou says a referendum on staying in the eurozone could be held on 4 December. But the country's Minister of Finance Eleuthérios Venizélos insists Greece's position within the euro is a "historic conquest" that "cannot be put in doubt" and "cannot depend on a referendum."
Greece was due to receive the first 8-billion-euro tranche of funding this month. Suspension could mean the country fails to make due repayments on bonds.

Credit Agricole analysts expect investors to shed assets.

"Markets will remain nervous, in anticipation of a Greek vote in the referendum, and the risks will remain high. Investors will get rid of risky assets."

Global markets have been hit hard, starting trading in downgrade positions. Asian stocks have depleted on the back of the negative news from Europe, with shares falling by 1.2% in Hong Kong and by around 0.7% in South Korea.

The Russian stock markets opened Thursday with blue chip share prices falling amid concerns about the situation in Greece and decisions by the US Federal Reserve System.

Russia's MICEX index fell to 1438.68 points, while the RTS slipped 3.9% to 1467.02 points, with prices for most benchmark shares down as much as 3%.

Alexandr Tymoshenko, Head of portfolio risk assessment at Alfa Capital, said the markets would stay turbulent.

"We should expect sideways movement on the MICEX of between 1250 and 1550 points. The economic situation is forcing players to move to active portfolio management."
Chris Weafer, Chief Strategist of Troika Dialog Bank, said further motion of the market today will be defined by a set of important macro-statistics.

"It is the turn of the G20 leaders and the ECB policy makers to take center stage today. Newly appointed ECB President Mario Draghi will have to make comments about Greece and the very dangerous debt threat which will obviously affect the dollar-euro rate and, therefore, indirectly commodity prices and sentiment towards Russian assets."

Vladimir Bragin, Director on financial markets at Alfa Capital, said that correction on the Russian stock markets could become a serious avalanche further down the line.

"The markets have grown very well in October, thus the slight correction was expected. However, the news from the eurozone is having a significant impact on global markets and also on Russian assets. The Russian market could fall by 5-7% during the day."