Markets freak as Greeks shun bailout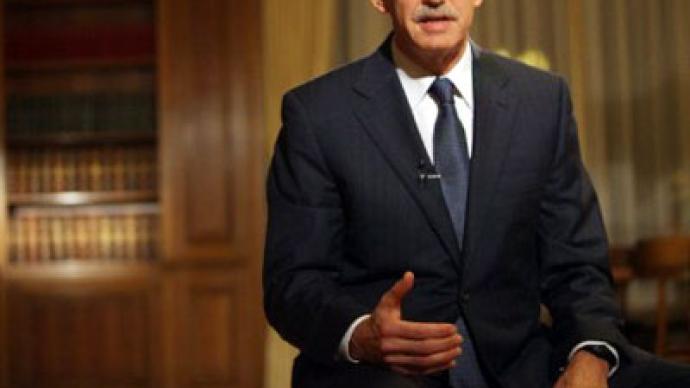 Markets around the world have plunged into another round of volatile trading, after Greek Prime Minister George Papandreou called for a referendum on the EU plans to bail out the country
­Russian stock indices blew away on Tuesday after last week's rally, which was buffered by the EU rescue initiative.
The RTS index fell sharply to 1.500 pp at the start of the trading day, after a massive asset runaway due to lack of trust in the European Financial Security Fund's ability to bail out Greece.

By 3:50 p.m Moscow time, the MICEX Stock Exchange had slipped by 3.16% % to 1451.20 points, while the RTS had decreased by 4.63% to 1490.93. Most benchmark stocks  on  the  indexes  decreased within 3%.   

Asian stock markets also fell, as new concerns emerged about the viability of the EU's much-heralded plan to contain Europe's debt crisis.
Last week, European leaders agreed to hand Athens 130 billion euros, and a 50% write-down on its enormous debt.

However, analysts expect an end to the country's membership in the Eurozone, and a default. One troubling sign is that borrowing costs for Italy and Spain have increased – a signal that traders remain worried about the countries' ability to pay back their debts. Francis Lun, Managing Director of Lyncean Securities Limited, says given the lack of stability in Eurozone institutions, the EU rescue plan is unsecured.
"The US market fell sharply overnight, mainly because Spain and Ireland's long-term bond yield rose to historic levels, showing investors' lack of confidence in the European Financial Security Fund's ability to save Europe from financial crisis, so investors are starting to lose confidence in Europe."
Anton Startsev, senior analyst at Olma, says the global economic climate is affected by external factors such as negative news from the Greek government and news on the bankruptcy of MF Global Holdings, a huge brokerage company. Moreover, "investors are expecting statistics from Great Britain and the US, which could determine market behavior."
Startsev adds that the bailout plan was not immediately welcomed by Greeks, which is a matter of concern for investors.
"Over half of the Greek population is against the recent decision on a second bailout package for the country, which will lead to austerity measures such as axing around 100 thousand employees over the next three years, and smaller pensions."

Oleg Dushin, analyst at Zerich Capital Management, believes strict measures could follow.
"The euro has fallen towards the end of the day on the back of the negative news, with growing expectations of rates hikes by the ECB on November, 3."