Luxury tax on super-rich 'the right thing to do' – Putin
Published time: 25 Apr, 2013 10:37
Edited time: 25 Apr, 2013 13:11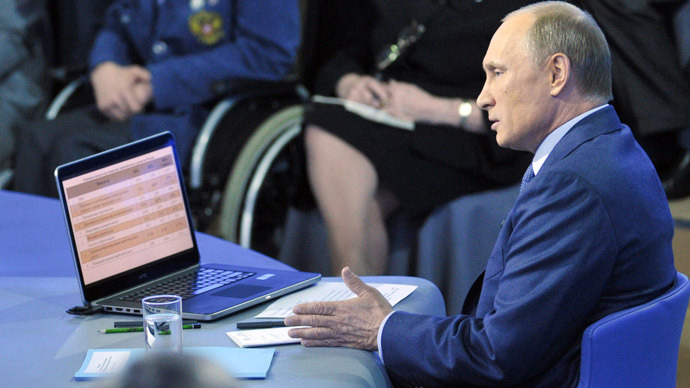 Russian President Vladimir Putin said he is not opposed to the idea of imposing a luxury tax, which would encompass elite real estate and cars. The remark was made during the president's annual call-in Q&A.
"It is the right thing to do, there should be such a tax. And the question of social equity, the gap in incomes is a sharp and a very important question, and not just for our country. In some other states, the US for example, it's getting sharper," Putin said.

However, in Europe this question is not as urgent, he said, adding that Russia should model itself on Europe's experience. In Russia, there are already proposals to tax luxury car owners, Putin noted. The current proposal calls for a doubling of the tax on cars worth more than 5 million rubles ($160,000), and a tripling for those worth more than 10 million rubles ($320,000).
"Not so many people use such cars. And such restrictions lie rather in the moral than in the fiscal realm, " Putin said.
He also suggested introducing what he sees as a much-needed tax on expensive real estate. "However, there is a hitch in the government on this question... Government officials so far failed to find a proper and correct way to introduce such tax on real estate, " he said.
Innovative development of economy is Russia's priority 
Russia's top priority is to switch to innovative development of the economy, President Vladimir Putin said.

"I share the idea that labor productivity should grow faster than wages. We must switch our economy to the innovative path of development. It is our priority. But it is difficult to do when fuel prices are high," Putin said, answering the question asked by Aleksey Kudrin, Russia's former Finance Minister. 
The President emphasized the priority of improving the quality of life for people in Russia, which he sees as the major accomplishment of the government.
Aleksey Kudrin said it is very important to work out a program of "reversing our economy's dependence on oil."
"Slowing economic growth is caused by a combination of external and internal factors," Kudrin said. "But I think internal factors are most important. Oil prices are lower now and I think the cabinet should move away from focusing on oil and raw materials. However we haven't seen such a shift yet," the former Finance Minister said, adding that the government needs more transparency, as people in Russia need to understand how the future political system will look.
"Certainly we need to make some adjustments," the President replied. However "the foundations of economic development will remain unchanged," despite the recession, Putin said, adding that the state needs to make sure the policies are "meeting the needs of our people."

Meanwhile Russian Deputy Prime Minister Vladislav Surkov believes there is the basis of an innovative economy in Russia. He spoke on Wednesday during a meeting of the innovation working group under the US-Russia Bilateral Presidential Commission in Washington.
In his opinion Russia does not yet have enough experimental production facilities and engineering centers. The Deputy PM was once a key ideologist and political mastermind for the Kremlin and says the country still needs "leading practices" and in the field of innovation. Surkov said he's certain that Russian will successfully deal with its goals in this field according to ITAR-TASS. 
Tight monetary in Russia policy is reasonable
According to the President inflation in Russia this year is expected to make 5.9%. Never the less Putin said he thinks, tight credit and money policy is largely reasonable.
"An overly tight monetary policy in Russia has been largely justified because it was intended to target inflation, to curb inflation, to fight price growth in essence. This is in the interests of the people and of the economy," he said.
According to the President opinions on the future of the Russian economy have split. Some believe that focus on inflation and floating rates "has squeezed money supply too much." The President explained "the Central Bank has switched to a floating rate, has stopped going onto the domestic market to buy currency, meaning that money supply has contracted."
"Then our banks, despite the slowdown in inflation, continue to lend to both companies and individuals, all participants of economic activity, at high rates. Rates here are 14%-15%, but inflation, meanwhile, has fallen to 7% of just over and around 6% is expected at the end of the year," Putin said.
Economic slowdown in Russia is not unusual
"There's nothing unusual about the economic slowdown in Russia. We all realized the slowdown in global economies and especially Europe, our main trading partner, and it's obvious the effects of the crisis reached our country."
Putin said that he thinks Russia also might have made its contribution to the global economic slowdown.
"Maybe we are also responsible for the global slowdown… Some Cabinet members think Russia contributed to the global recession, other think we just need to observe the crisis from the distance… What we have to do is focus on macroeconomic indicators and make adjustments."
While some in Europe say austerity policy is no longer sufficient, Russian officials argue whether they should "stop losing time and start working harder."
Russia's Finance Minister Anton Siluanov told Vedomosti business daily that the time of fat budget in Russia has ended, and now increasing government spending is madness.
The Finance Minister said increasing government spending is the easiest way to tackle the government's ambitious goals: ensuring growth rate, increasing salaries of government employees, and creating jobs. 
However he emphasized that now the state accounts for two-thirds of the investment in Russia. If this trend continues, the business climate in Russia will deteriorate, and even companies will cease to search for funding hoping for government financing. 
He noted that 'advanced' ministers have already started setting priorities and reducing minor expenses. However the rest still tackle problems by asking for extra state funding.
The Finance Minister's statement came in respose to signals of an economic slowdown in Russia. The Ministry's position is to cut budget spending and accumulate excess revenues from the sale of oil in the Reserve Fund. 
The Ministry of Economic Development however is opposed it, believing that excess revenue should be invested in infrastructure and the state economy.