Putin says no Stalinist tendencies in society, confirms Berezovsky's letters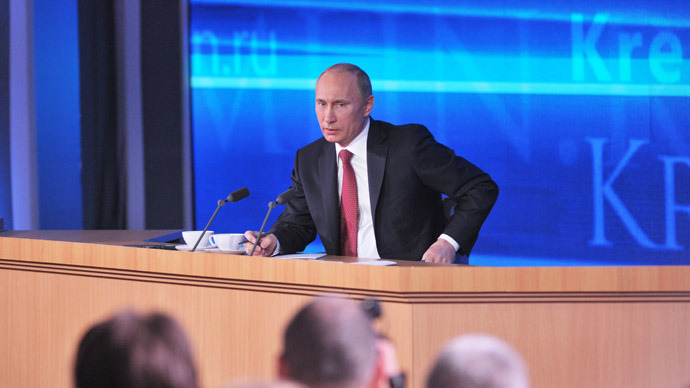 The Russian president has answered the most important of millions of questions submitted by citizens during his annual live Q&A call-in.
No Stalinism in society, but order, discipline and equality
Well-known liberal journalist Aleksey Vededictov of talk radio station Ekho Moskvy told the president that his third term was marked by worrying tendencies, such as the prosecutions of Pussy Riot, the rioters in Bolotnaya Square and Aleksey Navalny, as well as pressure placed on NGOs and the passage of laws that sparked widespread outrage.
"Answer please, do you really think that Russia can be a progressive world power in the 21st century by using methods of the 'effective manager' Stalin," Venediktov asked.
- Everyone should obey the law

Putin replied that he saw no elements of Stalinism in present-day Russia: "Stalinism is connected with a personality cult, with mass violations of the law, with repressions and prison camps," he said. "There is nothing of such kind in Russia and I hope there will never be. Our society is different now and it will never let this happen again."
Putin went on to say that Russia still needed order and discipline, as well as the equality of all citizens before the law. "The Pussy Riot girls and the guys who desecrate soldiers' graves must all answer before the law," he said. "People are not being convicted for their political views but for violating the law."
"The same applies to street rallies – I think that they might and must be organized, but this should be done in line with the law. Modern mass media can cover any event, why should one tear shoulder patches off the police uniforms and cause unrest?" he continued.
- Transparency does not mean political pressure

The same applies to NGOs, Putin explained, saying "we welcome their work as it is very important to get feedback from the common people from all regions. But if such activities see their only objective as self-promotion, this is bad."
"If they seek to make their activities a part of internal political procedure and yet they get their funding from abroad – I say, they must speak openly about it" he said. "No one is banning their work. The law is not banning this. But they must tell where their money comes from, in what amount and how it was spent."
- Corruption fighters must be clear as crystal

One of the hosts pressed the issue by asking the president if the authorities were afraid of popular anti-corruption blogger Aleksey Navalny, who now faces several criminal cases and is awaiting trial for fraud.
Putin said that in his opinion, those who fight corruption must themselves be "clear as crystal," or such activities would become self-advertising and PR, while the law must treat everyone equally.
"There should be no illusions like when someone is calling for everyone to catch a thief this gives this person a license to steal. But this also does not mean that someone whose views differ from those of the authorities must be put on trial and dragged to prison," Putin said, adding that he  told prosecutors and other law enforcers to ensure the trial is objective.
'Satisfied' with current government's performance
The first question dealt with several decrees on economic and social development Putin signed after last year's Russian presidential elections. When a reporter asked if the president was content with how his orders had been carried out, Putin said that he had deliberately set extremely difficult objectives, which should be taken into consideration when judging the government's performance.
Such measures were ambitious goals to motivate Russians, Putin said, adding that he has been generally happy with the government's performance.
Later, a viewer asked the president if he planned to dismiss any governmental ministers, and Putin answered that the current government has been in office for less than a year (the Cabinet was formed after the inauguration in early May 2012), and that any reshuffle would cause more harm than good. Putin praised the question, saying that officials at every level should be constantly reminded they are public servants.
Foreign operatives may have had a role in Berezovsky's death
When the hosts asked the president about late oligarch Boris Berezovsky, Putin answered that he could not discount the possibility that foreign special services were involved in the businessman's death. "They are capable of that. Everything is possible," he said.
Berezovsky died in London in late March by suspected suicide; a criminal probe into his death is ongoing.
Putin confirmed that he had received two identical letters from Berezovsky, though he admitted that he was not comfortable speaking on the issue: "I received the first letter from him in the beginning of this year and the second arrived already after his death. The text was the same, so yes, there were letters."
The president elaborated that the first letter was completely written by hand, while the second was partially typed and partially written. The first message was passed by one of Berezovsky's former business partners, and the second through another partner who is a foreign citizen, Putin said.
Berezovsky wrote that he was admitting his mistakes, apologized, and asked for permission to return to Russia. Putin said that he had not answered any of the letters.
The president also said he would not object to fulfilling Berezovsky's will to be buried in Russia, saying that the final decision should be made by the businessman's family.
Putin also noted that he decided not to make public the content of Berezovsky's messages, even though some of his close associates "literally demanded" he do so. "I thank God for preventing me from doing so," Putin concluded.
Return of death penalty will not eliminate crime
When asked if it was possible to bring back the death penalty for those convicted of grave crimes, such as the recent shooting in Belgorod that claimed 6 lives, Putin said he fully understood the questioner's emotions, but experts have suggested that such a measure would not actually reduce crime.
"When I encounter such events, my hand reaches for a pen to sign some documents connected with the death penalty. But first, I have to consult specialists," Putin said.
The Russian president recalled how in the Roman Empire, pickpockets were usually sentenced to death, yet most pickpocketing was committed during the public executions. He also reiterated that Russia has replaced the death penalty with life imprisonment, and suggested that the law be amended to ban pardons for criminals sentenced to life in prison.
"I understand both the citizens' indignation and their desire to punish the criminals. The question is in the effectiveness of certain moves," Putin said.
Russia has placed a moratorium on death penalty, in line with the demands of the Council of Europe. The current criminal code still allows for convicts to be sentenced to death, meaning life in prison.
Details of the current session

The questions were submitted through the Internet and at specially organized stations. The queries will be asked live at six studios in different locations throughout Russia, which are not disclosed until the call-in show starts. At the beginning of the show the number of questions was 2,3 million and they kept coming.

Putin's 11th Q&A session will be different from previous ones as the questions will be arranged by type, not by where the questioner is from, presidential spokesperson Dmitry Peskov told the press shortly ahead of the session.
You can share this story on social media: