PayPal to get stronger Russian stand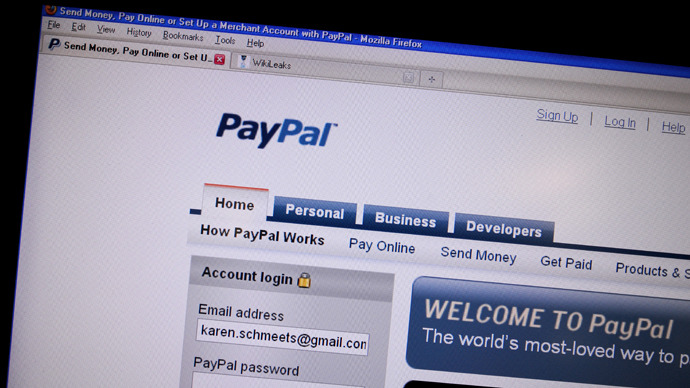 Global money transfer service PayPal aims to soon be fully operational in Russia. The e-commerce giant filed an application to the Russian Central Bank to register for a Non-Credit Banking Institution license, which will end transaction limitations.
Russian newspaper Vedomosti quoted a source in the Central Bank of Russia confirming it had received PayPal's application. To get the license, the company must pay about 18 million rubles (slightly under $600,000), according to Russian law.
There was confusion over PayPal's official status in Russia when a blog post appeared on eBay announcing that the license had been granted. The post was deleted a few hours later, but was quoted by a few media outlets and circulated among Twitter users.

PayPal has denied it received the license: "Registration is still in process, we will make a separate announcement when it goes through," PayPal's press service told RIA Novosti.

PayPal has been available in Russia two years, giving users access to most of its services. The company's Russian clients have been able to make purchases online as well as transfer money both in and out of the country, but can only send assets to US banks.

The Non-Credit Banking Institution license is the last obstacle in PayPal's quest to become fully operational in Russia. Licensing is a requirement in the National Payments Law passed by the Russian Duma and signed in 2011 by then-President Dmitry Medvedev; all e-commerce organizations operating in Russia are now required to have the certification.
Acquiring the license is just a formal move by PayPal, Viktor Dostov  President of the Russian Electronic Money Association told RT Business.
"Since the national payments systems law came into force, all electronic money operators in Russia must convert their business to a credit organization, it can be a bank or non-bank credit organization. So PayPal just took athe necessary step to meet the new Russian legislation. "
This move, however, can open new horizons both for the company and for its customers, Mr Dostov believes.
"Now they [PayPal] operate in a very well defined legal framework and I believe they will expand their operation to all those operations that are necessary for consumers, like payments to and from Russia. Probably they will issue credit and debit cards branded by PayPal. This will boost their business by itself, plus Russia will be now a less risky domain for PayPal and they will invest more money in business promotion."

PayPal currently accounts for 6% of Russian e-commerce, according to research last year by analytic firm TNS. The current leaders are Yandex.Money at about 15% market share, and Webmoney at 10%.

Until recently, e-commerce was not widely popular in Russia: Turnover in 2012 hit a record $9 billion, a 72% increase from the previous year, according to Investcafe analyst Ekaterina Kondrashova. Yearly turnover growth is expected to be at least 20% till 2017.

Analysts do not expect PayPal's move to trigger any drastic changes in the market. "Yandex.Money and Webmoney will keep their position as market leaders, however, PayPal's step-in with a full list of services will make all participants revise their offers to make them more attractive, thus it will be a positive change," Kondrashova told RT.
Market leader Yandex declined to comment, saying speculation about PayPal's expansion into Russia has been ongoing and inconclusive.


You can share this story on social media: