Lower oil price 'good for Russia'
Published time: 22 Jun, 2012 13:56
Edited time: 23 Jun, 2012 18:36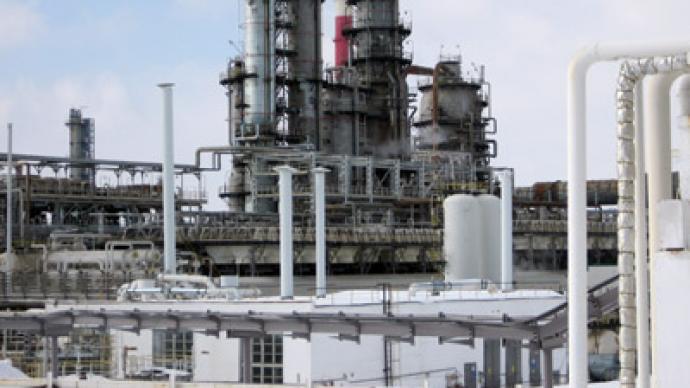 Russia will benefit from lower oil prices says Jim O'Neill, Chairman for Goldman Sachs Asset Management. This follows news that Russia is to adopt new policies to make its economy less dependent on the price of crude.
­
"I think it will be good for Russia if oil prices go down", Jim O'Neill told RT at the St. Petersburg International Economic Forum.
Russia's economy has long been heavily dependent on oil exports. Half of the budget revenues come from oil and gas. 

"Russia certainly needs to be not so dependent on the drug of rising oil prices. It has to adopt and change to a quarter balance."
And Russia seems to be heading in the right direction. President Vladimir Putin told the St. Petersburg Forum it was not enough to rely on an oil price of 115 dollars per barrel to achieve a deficit-free budget. 

"We need to diversify our economy away from total reliance on oil revenues, and turn to private capital as a source of growth," he said. "Russia not only needs a deficit-free budget but a budget with a reserve of resilience."
Putin also said that "budget rules will be adopted soon under which "neither state liabilities, nor budgetary expenditure, nor long-term investment programs will depend on oil prices, and excess profits will go to replenish funds."
Analysts say Russia, one of the four BRIC countries, has become a particular surprise this year, Russia seems to be more sheltered from the current global economic crisis than it was during the 2008 and 2009 downturn. Its prospects are brighter than those of many other economies
The country's economy is expected to grow between 4-5 percent this year -much higher than any developed country. 

"If it carries on growing at these rates it will contribute more to the world this decade than he whole of Europe," said Jim O'Neill.

Together with the other BRIC nations Russia is ready to tackle the global economic crisis.
"Emerging countries, including BRICS should play a bigger role in the world economy," Russian President Vladimir Putin told the Petersburg International Economic Forum.
Brazil, Russia, India, China and South Africa have recently offered their help, pledging to inject $75 billion into the IMF. 

China has offered $43 billion, while Brazil, Russia, India and Mexico promised $10 billion each. Meanwhile South Africa, Turkey, Colombia, Malaysia, New Zealand and the Philippines also promised smaller sums.
The five BRICS nations represent 43 percent of the world's population and about 18 percent of global economic output. They have about $4 trillion in combined reserves, with the lion's share held by export powerhouse China.
"If I had to rank them then China would be number one, Brazil -two, Russia number three and India four" Jim O'Neill of Goldman Sachs said.  "Russia has lots of challenges, so does everybody else."