MTS posts 2Q net income of $367 million
Published time: 6 Sep, 2011 13:22
Edited time: 6 Sep, 2011 17:26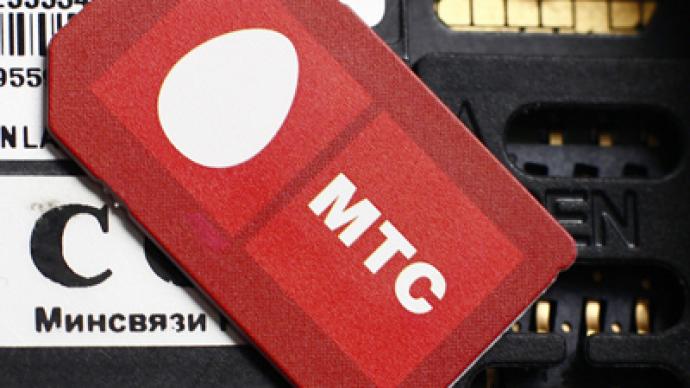 Russian mobile operator, MTS, has posted a 2Q 2011 net income of $367 million under US GAAP.
The 2Q net result is up 2.6% year on year from the 2Q 2010 net income of $357.7 million, with 2Q EBITDA up 5.2% year on year to $1.302 billion, on the back of a 12.8% year on year rise in 2Q revenues to $3.128 billion.
The 2Q results made for a 1H 2011 net income of $688.7 million, down 7% year on year, despite 1H Adjusted OIBDA rising 1% year on year to $2.428 billion, on the back of a 13% rise in 1H revenues to $6.062 billion.
MTS President and CEO, Andrei Dubovskov, said the 2Q figures showed the impact of continuing strong growth in mobile operations.
"Group revenue for the quarter increased 13% year-over-year to reach 3.128 billion US dollars. During the quarter we have delivered healthy revenue growth on the back of the seasonally strong mobile business performance and growing contributions from our retail and fixed business. Total revenues in Russia – including mobile, fixed and handset and equipment sales – have increased year-over-year by 9% to 76.1 billion rubles. Our mobile business demonstrated 10% year-over-year growth up to 63.1 billion rubles on the back on of higher voice and data usage; strong net subscriber additions coupled with a sequential decline in churn; rising sales of handsets and active sales of modems and data tariff plans as demand continues to grow for data as we expand our 3G networks."
MTS noted it had continued with its acquisition of regional fixed line providers, following on from its completion of the Comstar merger.CFO Alexey Kornya said these would continue to underpin margins heading forward.
"During the second quarter 2011, for the Group we realized strong sequential OIBDA growth of 16% for a margin of 41.6%.In Russia, OIBDA increased by 12% quarter-on-quarter to 32.5 billion rubles. This led to a sequential improvement in OIBDA margin of 42.7%. Seasonal factors, such as increased business activity and roaming, contributed to the growth, but we have also seen improvements in the underlying business stemming from: higher usage of data and value-added services; improvements in our fixed-line business, namely through the closing of our Comstar transaction and progress related to the integration of other acquired companies; a sequential reduction in dealer commissions as we have reduced our SIM-card sales, focused sales through our own stores and shifted more commissions to a revenue-sharing structure; and reduced G&A expenses by optimizing headcount and other costs throughout our retail network."