Mexico pushes legislation to break $95 billion oil monopoly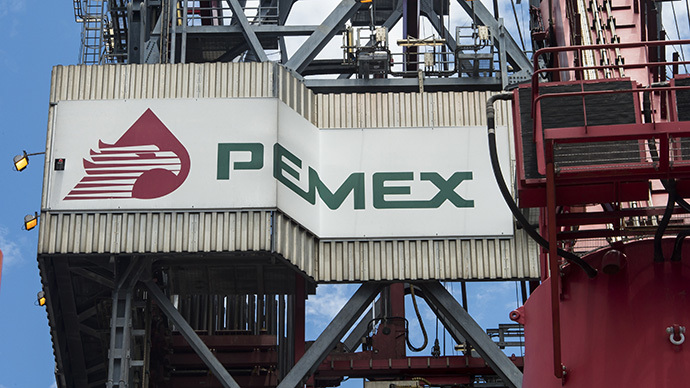 Lawmakers from Mexico's two biggest political parties submitted legislation to abolish the country's 75-year monopoly on oil. The private sector cooperation has the potential to reverse the country's more than eight-year oil production slump.
Senators have backed President Enrique Pena Nieto's plan to change the constitution, and have gathered enough congressional support to open up the world's 10th largest oil producer to private investment. The move will boost economic growth 1 percentage point by 2018.
"It's a 180-degree turn for Mexico," George Baker, a Houston-based energy consultant, told Bloomberg News.
Support for the change comes from the centrist ruling party and opposition conservatives, but is dubbed by the leftist Party of the Democratic Revolution "national treason."
Letting foreigners join in on projects and investment could help attract billions from oil majors like ExxonMobil, BP, Chevron, and Royal Dutch Shell and provide cheaper energy for all Mexicans. The transition should also smooth profit-sharing and production-sharing contracts.
"Bottom line is that if implemented this should boost (foreign direct investment) and oil output over the (medium term)," David Rees, an economist at Capital Economics, told Reuters.
Legislation also proposes to create a public sovereign fund that will be used to manage oil profits, to be governed by Mexico's Central Bank.
First proposed four months ago, the oil industry reshuffle will dismantle the current oil monopoly Petroleos Mexicanos, or Pemex.
The state will retain ownership of Mexico's oil reserves- estimated at 13.87 billion barrels- but once the oil is pumped, foreign companies have the right to profit. The law will not permit companies to book reserves or report projected incomes.
Stave off a slump
In 2004, at peak production, Mexico was producing 3.8 million barrels per day. Recently, however, production has dropped below 3 million barrels, according to the US Energy Information Administration.
Foreign participation could boost oil production to 3 million barrels per day by 2018 and 3.5 million barrels per day by 2025. Gas production, currently at 5.8 billion cubic feet, would increase to 8 billion cubic feet by 2018 and 10.4 billion cubic feet by 2025, as EL Financiero newspaper reported.
Investors are reacting positively to the prospect, as the move could signal long-term economic gains for all sides, as the location is safer, cheaper, and more developed than Arctic exploration.
In 1938 all components of Mexico's energy chain - from production to distribution – were made the legal property of the Mexican people, after President Lázaro Cardenas nationalized Mexican oil fields operated by 17 US and British companies, and banned foreign involvement in the oil sector.
Mexico is in a similar predicament to many of its oil-rich Latin American neighbors. Reserves in Venezuela, for example, are among the worlds largest, but production and output are on the decline.
Russian companies Rosneft and Gazprom have both been expanding their reach in Venezuela and the US, and may look to partner with Mexico.