Slumping rouble: PM calls on Central Bank to jump in
Published time: 4 Jun, 2012 08:01
Edited time: 4 Jun, 2012 12:06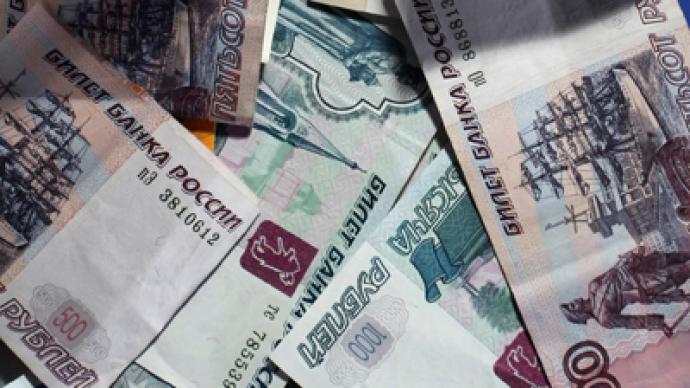 Russia's Prime Minister Dmitry Medvedev has ordered the country's Central Bank to take measures to stop the rouble's steep recent fall.
­The Russian currency has taken its hardest hit since the 2008 financial crisis, falling to its lowest in three years on Friday. Worries about a possible exit from Russia by oil company BP, decreasing oil prices and the worsening crisis in the eurozone sent investors selling.
Russia's Central Bank regularly intervenes to keep the rouble within a floating range against the euro and the dollar. Medvedev however has called for more efforts to halt devaluation.

"There may of course be different emotions but there are rules, including on the currency corridor, and the Central Bank should implement these," the premier told the head of Russia's Central Bank Sergey Ignatiev.

"Interventions should be stepped up, naturally keeping an eye on the economic situation, European trends and the oil price," said Medvedev.
The rouble was trading on Friday at 37.27 against the currency basket, which was near the critical threshold of 38.15 set by the Central Bank as the rate at which it would take even higher dollar sales to shore up the rouble. The currency basket that is the rouble's measuring stick is made up of 0.45 euro and $0.55.
Central Bank Deputy Chairman Sergey Shvetsov confirmed on Friday that the regulator has not changed its intervention parameters and is ready to sell $500 million when the rouble reaches the 38.15 ceiling.
The Central Bank Chairman Sergey Ignatiev tried to ease tension at a press conference, noting that his own savings and those of his family are in roubles. He added that the Central Bank was intervening "fairly intensively" to support the rouble, revealing that on Friday alone the bank had used $200 million to prop up the currency.
Ignatiev believes that the financial crisis in the eurozone is the main cause of the rouble's decline, which has led to a sharp fall in prices for raw materials, including oil. However, Ignatiev played down concerns about further devaluation.