Bank loans fuel Russian spending growth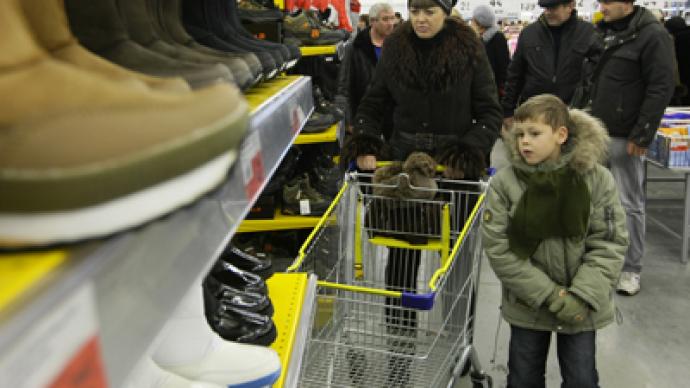 Russians took out a third more loans in November 2011 compared to the same month last year, according to the Federal State Statistics Service (Rosstat). Consumer borrowing has been growing every month this year.
Anton Saphonov analyst from Investcafe says the growth is the main reason for present high consumer demand. "Wage escalation is not enough to boost consumption in Russia, because inflation increased along with the growth", says the analyst. He adds that presently consumption is the major Russian economic driver, as other economic growth factors have been slowing down.
Rosstat also published November retail sales data indicating the trend slowed down a bit, but the figures are still very high – 1.7 trillion roubles, which is 8.6% more than in November 2010.
According to the Ministry of Economic Development, Russian growth this year will be more than 4.2% beating official forecasts.
Anton Saphonov thinks consumption figures are likely to continue growing in 2012, if there isn't another wave of crisis and the Russian economy remains stable. "Banks will most probably lower credit rates, because inflation is likely to decrease and the Central Bank is expected to lower the official bank rate. All this will make loans more attractive for consumers", says Anton Saphonov.
Ulyana Lenvalskaya analyst from Renesans Credit agrees the trend will remain. "Consumption in Russia will be galvanized by low credit rates. But high levels of credit in Russia, unlike the USA, doesn't create a debt bubble. Russian consumer indebtedness is very low, loans will instead drive Russian economy development", she says.