Belarus wanted businessman Kerimov sells his potash stake, shares up 7%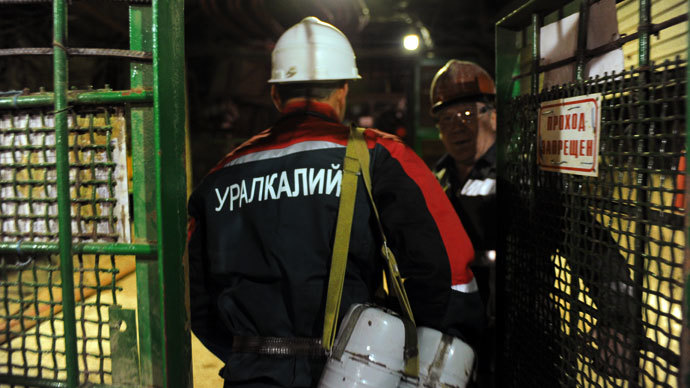 Global investors watching fertilizers are breathing again, after the sale of Suleiman Kerimov's stake in Russia's potash giant Uralkalli was confirmed. Now the wanted Russian tycoon is exiting the company, a battle is unfolding among potential buyers.
Following weeks of rumors that Uralkali's key shareholder Suleiman Kerimov is going to sell his 21.75 percent stake, the head of law firm Alexander Dobrovinsky & Partners Alexander Dobrovinsky confirmed the purchase of Kerimov's stake on his Facebook page on Friday.
On Facebook Dobrovinsky also said that former banker Vladimir Kogan had paid Suleyman Kerimov $3.7 billion for up to 20% of his stake in the company.
Investors, who had been anticipating to have Kerimov out of Uralkali were cheered by the news, with the stock in the Russian fertilizer giant adding 7% on Monday on the news.
Dobrovinsky added the sale to Kogan will be closed in the next two or three weeks, and Uralkali chief executive Vladislav Baumgertner, who was arrested in Belarus in late August, "will be released from the detention center within the same period" and will retain his former post, Interfax reports.
The other rumoured contender for Kerimov stake is Rosneftegaz, the state holding company chaired by Rosneft  president Igor Sechin, as Vedomosti daily reports, citing its sources.
A number of media outlets reported on Sunday that Rosneft itself was interested in Uralkali, but Sechin denied this.
"Potash is not currently within the perimeter of our strategic interests," Sechin told Interfax on Sunday evening.
Rosneftegaz, which holds an 11% share in Gazprom and 75% of Rosneft on behalf of the government, is an SPV that collects dividends on the state shares in the two companies.
The main stockholder in AFK Sistema, Vladimir Yevtushenkov, who is negotiating in partnership with RussNeft chief Mikhail Gutseriev, the former head of Gosstroy, Vladimir Kogan, and businessman Arkady Rotenberg, were earlier  identified as other possible buyers.
In early September Belarus put Kerimov on the national wanted list, as well as requested Interpol to publish a Red Notice for the busienssman, accusing him of  "abuse of power and office".  Interpol clarified later in the month that  no Red Notice had been issued to the date of September 11.

The so-called "potash war" between Russia and Belarus broke out on July 30, after Russia's Uralkali exited from the world's largest potash exporting consortium with Belaruskali.
Uralkali is not commenting on the actions of shareholders.