Ireland exits recession, but no cause for celebration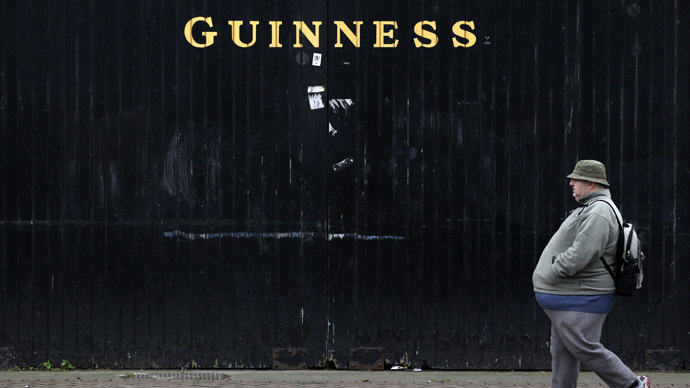 The Irish Republic, which hopes to be Europe's first to exit its bailout program, emerged from its second recession in five years. Gross domestic product rose 0.4 percent in Q2, shaking off a steep slowdown, but officials warn it's too early to celebrate.
The Irish economy has returned to expansion in 2Q 2013 after two consecutive quarters of contraction, which means a technical recession in the country is over.

Technical recession is a term used to refer to an economic contraction seen for six months in a row.
The report by the Dublin-based Central Statistics Office show Irish GDP added 0.4 percent in the April to June period,  compared to the first three months of 2013.
Though statistically the country is back on track, realistically there's little reason for optimism, analysts warn.
Growth missed economists' forecasts of at least 0.8 percent. Bloomberg had estimated a 1 percent expansion.
"There's no reason to be throwing our hats in the air or anything like that," Finance Minister Michael Noonan warned reporters.

Growth was boosted by a 4.3 percent jump in exports, and a 0.7 percent increase in consumer spending. Ireland, which has one Europe's highest budget deficits, was able to cut government spending by 1.3 percent.
Building and construction grew by 4.2 percent, distribution, transport, software and communication rose by 1.4 percent. Industry fell 0.3 percent.
"It's still going to be quite a difficult budget but it does give us a foundation for building the budget and a strategy for exiting the program. It's moving in the right direction," Noonan said.
The total cost of the bailout for Ireland is nearing 64 billion euros, of which 40 percent was paid by taxpayer contributions.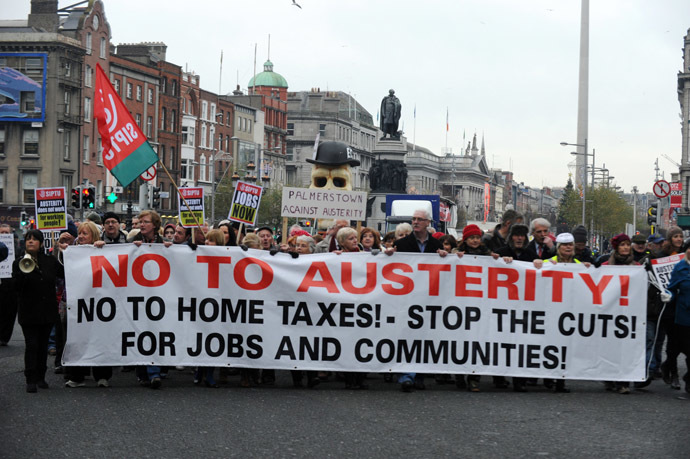 The recently bailed out euro member's recovery from the financial crisis has been slow, and Ireland re-entered a technical recession earlier this year after the economy was hit especially hard by austerity measures.

Unemployment remains stuck in double-digits at 13.4 percent, which is still nearly 1 percent lower year-on-year. Mass unemployment has forced a great outward migration, and almost one person leaves Ireland every 6 minutes for better job or living conditions.
The budget deficit is astronomical largely due to the burden inflicted by the failure of six banks and recapitalization of the main three - Bank of Ireland, Allied Irish Bank and Anglo Irish Bank. To combat the a huge budget deficit, government officials have increased taxes and introduced austerity measures, which have been highly unpopular with residents.
Budget shortfalls are partly due to Ireland's low corporate tax rate, which means the government collects significantly less tax revenue from Ireland-base companies.
Ireland has a corporate tax rate of 12.5 percent, one of the lowest in Europe, but also drives economic growth by attracting companies to set up headquarters in Ireland.
The government has projected overall growth of 1.3 percent for 2013.
Prime Minister Enda Kenny is hoping to wrap up his country's three-year international bailout plan by the end of 2013, but Moody's has warned Ireland may need a second bail-out in late 2013 when the current $113 billion (85 billion euro) EU-IMF support program ends.
Eurozone debt, in total, has swelled to $11.4 trillion (8.75 trillion euro), a great portion which is accounted for by the five bailout countries - Greece, Ireland, Cyprus, Spain, and Portugal.
You can share this story on social media: