Thousands march in Dublin against austerity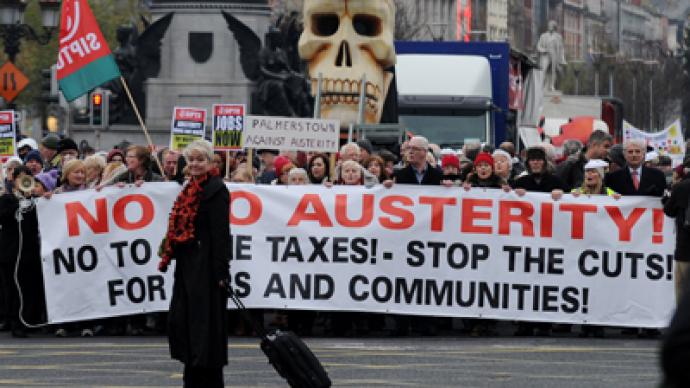 Over ten thousand people marched through the streets of Dublin against the government's austerity program, as Ireland prepares to approve a new budget that includes tax hikes.
The crowd gathered to express anger over an increased financial burden on citizens, and to voice concerns that the economy cannot afford further austerity.The procession, led by a woman riding a horse with a banner reading "No to Austerity," started at the Garden of Remembrance and finished at the General Post Office with a giant skull float labeled ECB, or the European Central Bank.Organizer Michael O'Reilly, president of the Dublin Council of Trade Unions, addressed the crowd at the scene. "The evidence is clear – you cannot cut your way out of a recession," he said. "On the contrary: with each cut in public spending, and with each euro taken out of the pockets of low and average earners in new or increased taxes, we are digging ourselves further into a hole," quotes the Irish Independent. On December 5, Ireland will unveiling a new budget that includes €3.5 billion in savings reached by way of spending cuts and tax increases.Prime Minister Enda Kenny has pledged to impose strict annual measures as part of the austerity program until 2015 in a bid to tackle a budget deficit and give money to banks who made bad bets, which Dublin started doing in 2009.Following the collapse of the economy in 2008, Ireland was forced to nationalize five of its six banks. In 2010, the government negotiated an international bailout.The austerity measures so far have reduced average Irish pay by around 15 per cent, while unemployment is at a record high 14.8 per cent.
You can share this story on social media: